Judging by past statements, Arsenal playmaker Santi Cazorla is in no mood to apologise, following allegations of diving in the weekend's league match against West Brom. The former Villarreal midfielder won a penalty (converted by compatriot Mikel Arteta) to give the Gunners the lead against Steve Clarke's men.
However, replays show no contact between Cazorla and Baggies' defender Steven Reid. The outburst against the Spaniard prompted Arsenal manager Arsene Wenger to apologise on behalf of his player.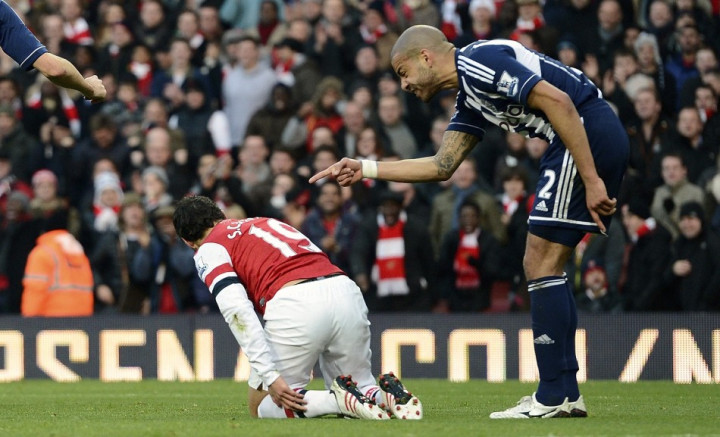 "Sometimes you dive and yet it's not something that should be a big controversy. It's something that happens in football. Sometimes you're thinking: 'Will they touch me or won't they touch me?' You go over and then realise they haven't touched you. It just happens," the Spaniard stressed, speaking to The Telegraph in an earlier interview.
"It shouldn't be a blame game. It's a moment when you get hot-headed, sometimes you're not thinking about what happens, sometimes you dive and yet it's not something that should be a big controversy," he added.
The above quotes were made specifically in response to questions about non-English players being more harshly penalised than local players, a claim made by Manchester City's Argentine forward Sergio Agüero and a variation of that statement - suggesting foreign players are more likely to dive than English players - made by Sir Alex Ferguson as recently as October.
Retrospective Punishments
Meanwhile, the Telegraph also reports the FA is considering introducing retrospective punishments for players found guilty of simulation. And Cazorla will probably be a little disappointed to find out Arsene Wenger himself has advocated an automatic three-match ban in such cases.
Wenger has previously quoted Article 146 of Fifa's disciplinary code, which states national associations are "at liberty to choose the means and wordings" of the relevant provisions, to support his call for the FA to modify the laws of the game. This step would be needed because, at present, Fifa does not allow for retrospective punishments.
The Arsenal manager is not the only boss from the English top flight to speak out against diving this season. Earlier, Stoke City manager Tony Pulis condemned Liverpool striker Luis Suarez for diving during the clubs' Premier League match at Anfield. On that occasion there was no penalty given and the Uruguayan escaped action for his theatrics.