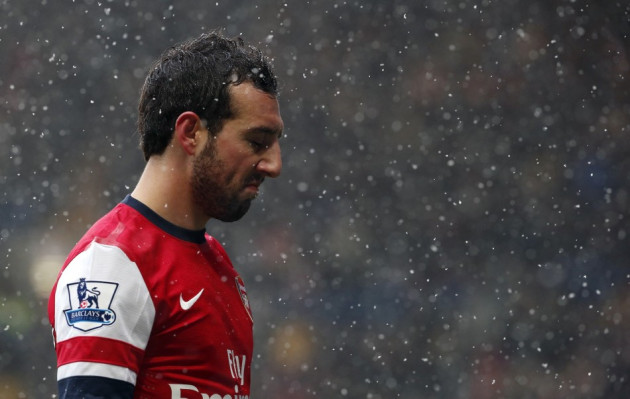 Arsenal playmaker Santi Cazorla has revealed Real Madrid players were shocked when the Spanish giants let Mesut Ozil go to the Premier League.
Some Real Madrid players, including Cristiano Ronaldo and Sergio Ramos, complained in public about Ozil's move to Arsenal, because they felt that he was a key player for the team.
Asked about this in an interview with Four Four Two, Cazorla said that the transfer surprised everybody in Spain.
"Absolutely [the transfer was a surprise], and it's not only me. The Real Madrid players have all said the same thing. Nobody was expecting that Mesut Ozil, a young player of such immense quality, would leave Real Madrid. I just couldn't believe that Madrid let him go. It's brilliant to have him here," Cazorla said.
The Spanish midfielder is really happy with Arsenal's start to the season and he certainly believes that The Gunners can hold onto their Premier League leadership, as the team is much better than last season.
"With the signings we have made this summer, especially Mesut Ozil, the team is better this year and we want to fight to get to the level of Chelsea, Manchester United and Manchester City" he added.
"It will help that we have changed our mentality. Part of the problem had been the years Arsenal have lived without a trophy; you almost became accustomed to that feeling of not having silverware."
Cazorla also praised Arsene Wenger and even put the French manager on the same level as Sir Alex Ferguson.
"Day to day, Wenger is the physical representation of Arsenal. He is the club. Alex Ferguson, who's now obviously left, and Wenger are the two managers who define the Premier League."
The 28-year-old playmaker is in his second season at the Emirates Stadium and he is especially enjoying this year, despite being out for over a month due to an injury in his ankle. He has scored one goal and grabbed one assist in nine league games and he is forging a good partnership with Ozil.