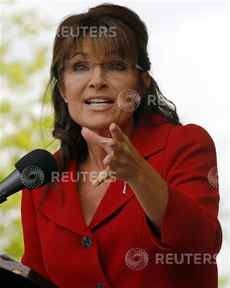 As the battle for candidacy within the Republican Party is fast approaching, accusations of drug use and casual sex have rocked Sarah Palin following the publication of The Rogue: Searching for the Real Sarah Palin, a book by Joe McGinnis.
The announcement of Palin's daughter's out of wedlock pregnancy had a few years ago already provoked the uproar of the politician's conservative following, and while Palin's gaucheries have made her a favourite target of media sarcasms, the timing of the revelations about her private personal life seems strangely inconvenient to Palin but convenient to her opponents within or outside of the Republican party.
With important political and geopolitical changes taking place at such a rapid pace throughout the world, a deepening economic crisis threatening to plunge the west and the U.S. into an even more serious recessions and mounting domestic problems, one would have hoped that the American presidential campaigns would not be overshadowed by salacious reports whether true or not.
The publication of the book however seems to indicate that from now on the gloves are well and truly off with personal details overshadowing the candidate's real competence or inabilities.
So according to McGinnis book Sarah Palin allegedly smoked marijuana with her professor as a student, snorted cocaine off an oil drum while snowmobiling and had an affair with a former business chum of her husband, Todd Palin.
She is however not the only U.S. politician accused of substance abuse or use. After all, George W Bush has admitted to an excess of alcohol consumption for much of his early life after many observers said he was well known for drinking in excess throughout college and was arrested when he was 30, for disorderly conduct.
According to a little-publicized report in a recent book chronicling the "secret life" of Richard Nixon, "Tricky Dicky" was also accused of possible abuse of the drug Dilantin. Dilantin is a common antiepileptic known as Phenytoin which is said to have anxiety-controlling and mood-stabilizing effects.
John Kennedy was also accused of smoking Marijuana and taking LSD by Mary Pinchot Meyer, one of his supposed mistresses and Clinton while younger had admitted to using marijuana, although he famously claimed that he "did not inhale" and a doctor even accused him of an alleged cocaine overdose.
Meanwhile, in 2008, Larry Sinclair, a man living in Minnesota, filed a suit in a Minnesota District Court, alleging threats and intimidation by Obama's staff after he claimed to have "personally engaged in sexual activity and personally used illegal drugs in November 1999 with the man who is now the leading Democratic presidential candidate. "
It seems that Palin then joins the list of a long history of U.S. politicians accused of drug use or abuse and while the accusations revealed in McGinnis' book are set to shock some of her followers, attacking Palin's political programme would be of more use than exposing her private life.