Oklahoma: Satanists Plan to Build Statue Next to Ten Commandments Monument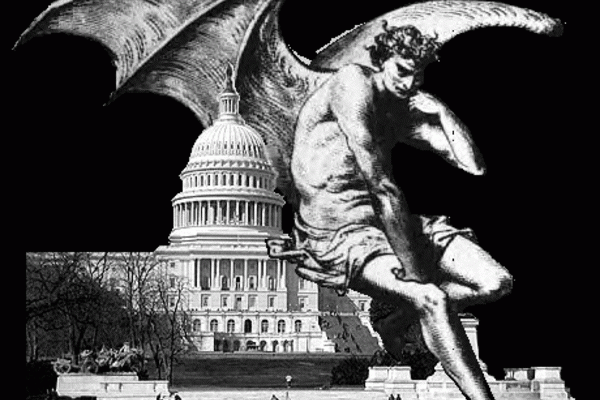 A group of Satanists have launched a campaign to build a statue next to a monument of the Ten Commandments which stands on Oklahoma City's capitol grounds in a bid to promote "religious diversity".
The Satanic Temple, a New York-based organisation whose members describe themselves as "the most active satanic organisation in the world", hope to build a statue to commemorate the devil which could also act as an "object of play for young children".
The proposals are a response to the decision to build the privately-funded Christian monument outside the Oklahoma Statehouse in 2012. The Ten Commandants monument, which was installed following campaigns from Christian groups, was placed on Capitol grounds despite criticism from legal experts who questioned its constitutionality.
The Satanic Temple now says it wants to donate a $20,000 (£12,000) monument to appear alongside the Ten Commandants and plan to submit several "public-friendly" designs.
Satanic Temple spokesperson Lucien Greaves said: "All monuments should be in good taste and consistent with community standards.
"Our proposed monument, as an homage to the historic/literary Satan, will certainly abide by these guidelines."
Greaves said the Satanists' proposal was inspired by Mike Ritze, the Republican politician who led the charge to install the Ten Commandments monument and helped pay $10,000 towards its construction.
"He's helping a Satanic agenda grow more than any of us possibly could," Greaves said.
"You don't walk around and see too many satanic temples around, but when you open the door to public spaces for us, that's when you're going to see us."
As part of their plans the group set up a fundraising page to help them build their statue in Oklahoma.
A message on their Indiegogo page said: "The existing Ten Commandments monument, donated to the Capitol Preservation Commission in 2009 by Mike Ritze, a representative of the Oklahoma State Legislature and ordained Southern Baptist Deacon, has raised the ire of the American Civil Liberties Union (ACLU) who filed suit in August of 2013, noting that 'the monument stands alone, with no other monuments or memorials in the immediate vicinity'.
"Allowing us to donate a monument would show that the Oklahoma City Council does not discriminate, and both the religious and non-religious should be happy with such an outcome. Our mission is to bring people together by finding common sentiments that create solutions that everyone can appreciate and enjoy."
At the time of publication, the Satanic Temple has yet to raise any of their proposed $20,000 for the project.
Brady Henderson, the legal director for ACLU Oklahoma, agreed with the principle that officials should allow more than one form of religious expression on state grounds, but added a better solution might be to allow none at all.
He said: "We would prefer to see Oklahoma's government officials work to faithfully serve our communities and improve the lives of Oklahomans instead of erecting granite monuments to show us all how righteous they are.
"But if the Ten Commandments, with its overtly Christian message, is allowed to stay at the Capitol, the Satanic Temple's proposed monument cannot be rejected because of its different religious viewpoint."
© Copyright IBTimes 2023. All rights reserved.