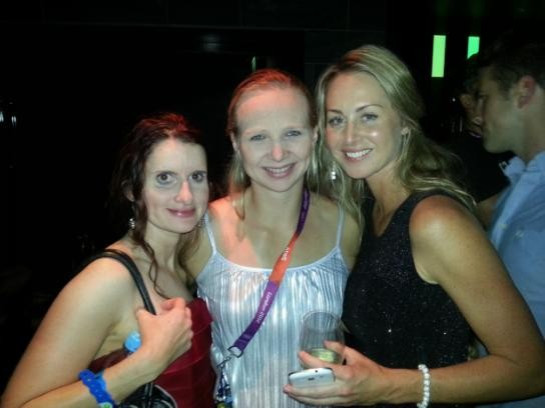 Outside the window as I write, I see a grey sky, red double-decker buses and the famous Underground sign. This little lady from the land "Down Under" has made it to London. I reach for my blusher brush with the sound of the London 2012 Olympic Games on the TV in the background, and have a quick peak to see Jess Ennis, the very successful GB Olympian, celebrating her success.
As I blush the other cheek, I am getting more excited because this blush and this little red number I am wearing, will soon be joining a whole bunch of Aussie athletes in London to talk about life, love and whatever else blows our way.....
Money? Check
Oyster Card? Check
Phone? Check
Personality? Packed
Ready? Yes
The line outside the exclusive club, China White, is massive but Brooke and I walk straight to the front and hand our passes to the security guards and we are in. I feel like a celebrity.
Inside, it's the usual scene of pumping music, crowds of people dancing to the beat and sticky floors. However, this group was a supreme mix of muscle and looks. We weave through the crowds, dance up a storm and catch up with the athletes.
We meet with [gold medal winning Australian swimmer] Melanie Schlanger from my home town of Brisbane, winner of two medals in this Olympics including Gold in the relay. She was sweet, just like a friend that I would catch up with at home. We talked briefly of her challenges and the excitement that she felt winning gold for Australia.
After this, security was onto me and I had to stop taking photos as this was a time for the athletes to enjoy life without the media in their face. I stopped taking photos and decided to just enjoy this experience, vowing to write about anything that I discovered with you.
I did chat briefly to the Missile [Australian swimmer James Magnussen] who still looked to be dazed with this whole experience. He did not want to talk about the race or anything else really as he was out to relax. I felt for James as he is just a guy who is a great swimmer who kind of buckled under the pressure.
I advised him that at the next Olympics, he should maybe take his mind back to a time when the race was important but also fun. A race with his friend on holidays and the winner wins the hot chick sunbathing at the side of the pool.
After these chats and a bit more dancing, it was time to leave and this was the next battle, finding a cab home at the early hours of the morning when the club had shut. The only beauty of this long experience home was hanging out with athletes rather than the usual crowd.
In just a few hours we have our next mission, the Hope Relay. Stay tuned for what adventures will happen in London with Christie, your Australian Samsung Global Blogger.
Christie is a Samsung Global Blogger for the London Olympic Games.