A petition demanding the Scottish independence referendum be re-held "because it was rigged" has garnered 70,000 signatures in less than 24 hours.
Despite Scotland's First Minister and leader of the Scottish National Party Alex Salmond accepting that the outcome of the vote is "the democratic verdict of the people of Scotland", the petition calls for a re-vote because of "strange occurrences" that appear to show electoral fraud and vote rigging.
The petition states: "Countless evidences of fraud during the Scottish Referendum have come to light, including two counts of votes being moved in bulk to a 'No' pile, 'Yes' votes clearly being seen in 'No' piles, and strange occurrences with dual fire alarms, and clear-cut fraud in Glasgow.
"We demand a re-vote be taken of said referendum, where each vote shall be counted by two individuals, one of whom should be an international impartial party without a stake in the vote."
The allegations of vote miscounting refer to videos posted on YouTube on Friday that show Sky News' footage of polling stations in Dundee and Edinburgh.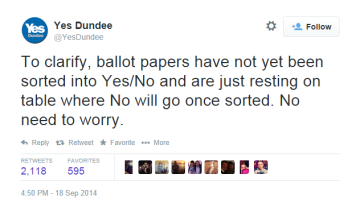 Social media users spotted a clear 'Yes' ballot among the papers on a table allocated to 'No' votes.
However, the 'Yes Dundee' organisation clarified that the ballots in question were yet to be counted and were merely "resting on the table" before being moved once sorted.
Scottish nationalists were told to "get a grip" yesterday after pro-independence supporters venter their frustrations on social media after the result was announced.
Meanwhile, officials at the referendum count in Glasgow are investigating 10 cases of suspected electoral fraud at polling stations after Glasgow City Council said police had been called earlier today.
They said it related to possible cases of impersonation, where people pretend to be someone else, cast the vote, then the real person turned up to vote.
Police Scotland said there was an ongoing investigation into a "small number" of ballot papers which had been compromised.