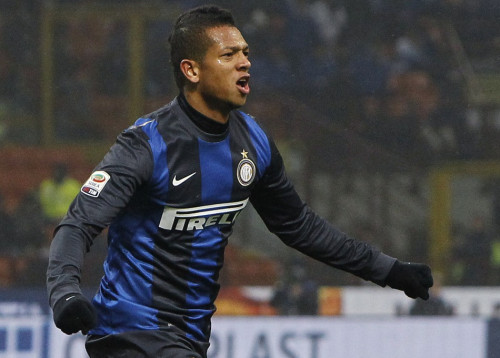 Arsenal and Chelsea have been given renewed hope in their pursuit of their January transfer targets after a proposed swap deal between Juventus and Inter for Mikro Vucinic and Fredy Guarin collapsed.
Chelsea appeared poised to secure a deal for Guarin, 27, at the beginning of the month after Inter confirmed talks were underway with the Blues, while a short term loan deal for Montenegrin international Vucinic to Arsenal was widely reported as Arsene Wenger sought to add another forward to his squad.
Both moves appeared to be off as Juventus and Inter came to their own agreement, but in the last 24 hours the proposed deal has fallen through despite the Vucinic clearing out his locker in Turin and completing a medical with the Nerazzurri.
Statements from each club suggest any attempts to resuscitate the deal are highly unlikely. Comments from Inter explained the club president Erick Thohir refused to sanction the exchange and demanded a fee of €5m from Juventus in addition to Vucinic despite an earlier agreement for a straight forward player swap.
Juventus responded angrily to Inter's move with the club's general manager Giuseppe Marotta accusing the club of a lack of respect towards both players, stating: "It's the first time in over 30 years of dealing with players' transfers that I have been part of an unfortunate situation such as the one which has been created here."
The proposed move was also met with dismay by fans of both teams and prompted protests from Inter supporters outside the club's headquarters earlier this week.
With the futures of both Vucinic and Guarin in limbo, both Arsenal and Chelsea may be tempted to renew their own interest.
Since opening negotiations with Guarin's representatives at the beginning of the month, the Blues have since lost one midfielder in Kevin De Bruyne and are poised to lose another in Juan Mata who is on the precipice of a sensational move to Manchester United.
Arsene Wenger's pursuit of cover for his meagre forward options has so far proven to be fruitless. The Gunners' boss has indicated he is open to a short term move rather than spending big in January, but saw a hopeful attempt to bring Real Madrid striker Alvaro Morata to the club dismissed by the La Liga giants.
The Gunners' boss has also dismissed suggestions he will bring former Manchester United and Tottenham Hotspur striker Dimitar Berbatov to the club this month.