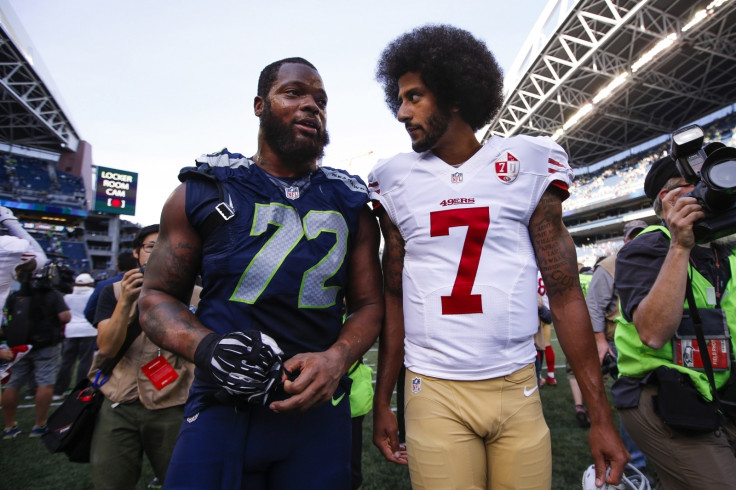 NFL star Michael Bennett has accused Las Vegas police officers of pointing guns at him and using excessive force during an incident following the Mayweather-McGregor boxing fight in August.
The Seattle Seahawks defensive end posted a lengthy account of the incident on Twitter on Wednesday (6 September), noting, "The system failed me."
"Las Vegas police officers singled me out and pointed their guns at me for doing nothing more than simply being a black man in the wrong place at the wrong time," the 31-year-old wrote.
Bennett said an officer ordered him to the ground and then threatened him by placing his gun by his head. The officer reported warned the football player that if he moved he would "blow my f**king head off".
A second officer then appeared and "forcefully jammed his knee into my back making it difficult for me to breathe," Bennett recounted.
"The Officers' excessive use of force was unbearable. I felt helpless as I lay there on the ground handcuffed facing the real-life threat of being killed," he wrote. Bennett said he thought about his daughters and wife as he pleaded with officers and asked them what exactly he did wrong.
He said he sat "for what felt like an eternity until they apparently realised I was not a thug, common criminal or ordinary black man but Michael Bennett a famous professional football player". Bennett was eventually released.
Police Officer Jacinto Rivera told Associated Press that authorities are checking for video and written reports but said they cannot immediately verify the athlete's account. The Las Vegas Police Department tweeted that it would address the issue publicly later.
Following Bennett's account, TMZ Sports released a video showing a police officer placing handcuffs on a man who appears to be Bennett. The man is heard yelling to the officer: "I wasn't doing nothing man! I was here with my friends. They told us to get out, everybody ran. Can you answer my question, sir?"
In his post, Bennett announced he has retained John Burris, an Oakland-based civil rights attorney to look into the incident and determine his legal options. He also used the post to give an example of the racial inequality he says he is protesting by sitting for the national anthem.
Bennett's brother, fellow NFL star, Martellus Bennett, posted a message to his brother on Instagram that he is "glad your voice is one of the ones being heard." The Green Bay Packers tight end said he spoke to Michael shortly after the incident. "[T]he call that night was a scary one," he wrote. "I could hear the fear in your voice."
Bennett also received the support of fellow unsigned football player Colin Kaepernick, who has made headlines for his refusal to stand during the national anthem. "This violation that happened against my Brother Michael Bennett is disgusting and unjust," he tweeted. "I stand with Michael and I stand with the people."
According to ESPN, the Seahawks have yet to comment on the alleged incident.