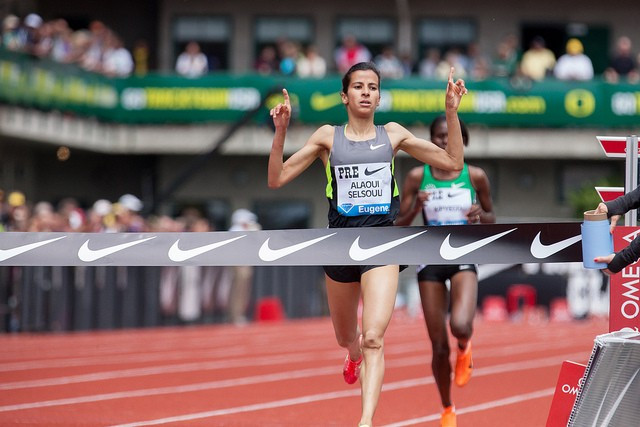 Moroccan 1500m runner Mariem Alaoui Selsouli has been banned from the 2012 London Olympics after failing a drugs test. The 28 year old long distance runner, who came second at the World Indoor Championships this year, tested positive for a banned diuretic from a sample collected in Paris on 6 July. Selsouli has a ban from a prior doping allegation and now faces a life ban from the sport.
"Doping offenders should know that avoiding detection is the smallest possibility it has ever been," John Fahey, the president of the World Anti Doping Agency (WADA), was quoted as saying by Reuters.
Meanwhile, apart from Selsouli, a further six athletes - Abderrahim Goumri (Morocco), Iríni Kokkinaríou (Greece), Meryem Erdogan (Turkey), Svetlana Klyuka (Russia), Nailiya Yulamanova (Russia) and Yevgenina Zinurova (Russia)- have failed their respective tests, after the International Association of Athletics Federations (IAAF) stepped up Biological Passport testing - keeping a track on blood variables over a period of time - a statement on the IAAF's official Web site said. In a second statement, the IAAF identified three more athletes as violating anti-doping rules. According to the organisation, the sample of Inna Eftimova (Bulgaria) tested positive for synthetic Growth Hormone, while the samples of Nataliya Tobias (Ukraine) and Antonina Yefremova (Ukraine) both contained traces of synthetic testosterone.
The BBC reports a total of 107 athletes were sanctioned after WADA carried out more than 70,000 tests worldwide, in a six month period.
"In the six months prior to June 19, at least 107 athletes were sanctioned," Fahey told an International Olympic Committee meeting, according to Reuters, "I cannot confirm how many of those would have qualified but had that been their ambition I am pleased to say they are not with us in London."
As a result of these issues, the organisers behind the 2012 London games have promised some 6,000 tests (including the new bio-marker tests) will be carried out over the course of the event.
"It's a very significant step and it's a very helpful one. Every step is significant if it ends up catching someone who has been cheating with impunity," the BBC quoted WADA director-general, David Howman, as saying.