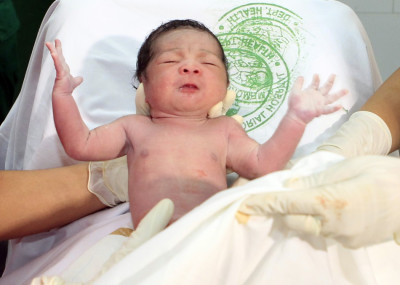 The day has arrived. On Monday, the global population should reach seven billion people, according to the calculations of the U.N. Population Fund. Though the U.N. made the announcement, it could not pinpoint exactly where the child will be born. According to media reports, both India and the Philippines have welcomed what they claim is the world's seven billionth person.
The UNFPA said the seven billionth child would be born Monday in India. Statistics suggested that as many as 51 babies are born in India, every minute. Of these, 11 are born in Uttar Pradesh, IBNLive reported. Therefore, as per the U.N.'s calculations, the seven billionth child should have been born in Uttar Pradesh. When Ajay and Vineeta welcomed Nargis, a baby girl, born at 7:20 a.m., in Lucknow, the prediction seemed fulfilled.
But the Philippines have also reported a seven billionth child. The country welcomed Danica May Camacho, who was delivered just before midnight on Sunday, at Manila's Jose Fabella Memorial Hospital. The parents and the baby were met by top U.N. officials in the Philippines, who presented the child with a small cake.
According to experts, the world's population could reach eight billion by 2025 and 10 billion by the end of this century.
A UNFPA report, "The State of World Population 2011: People and possibilities in a world of 7 Billion", was released globally on Oct. 26. The report urges nations to ensure that the future is more equitable and environmentally sustainable.
On a side note, to put the idea of seven billion in context, if you were to meet every living person in the world for a single second, you would still need 221 years to meet everyone!
Take a look at some of the "-billionth babies" of the world in pictures!