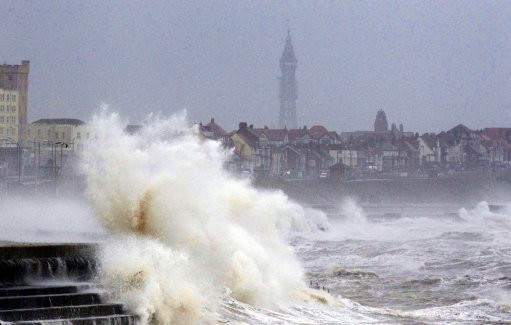 Severe weather warnings have been issued for many parts of the UK this week.
Winds with speeds reaching 100 kmph have been predicted in the southeast over the next few days. The Met Office has also warned that a swathe of heavy rain will push through eastwards on Monday night, raising the risk of floods accompanied by gales or severe gales, particularly affecting southern England. Blustery wintry showers will follow into the west by dawn, the notification has said.
Winds reaching speeds up to 70 kmph are likely to hit the southeast and northwest of England, according to a Daily Mail report.
The Guardian has quoted Aisling Creevey, a forecaster with MeteoGroup which is the weather division of Press Association, as saying that it is too early to predict where the winds would hit.
"It is very difficult to know at this stage where exactly the storms are going to be. There's a system coming through on Tuesday and again on Thursday. We could see gusts of 100 mph in some places, but there is very little confidence about exactly where," Creevey has been quoted as saying by the paper.
The Met Office has also predicted severe gales for the northwest of the UK by Tuesday afternoon, with longer periods of rain and some snow. "Strong winds on Monday evening have the potential to cause some disruption, especially in areas exposed, to the south. In addition, rain will turn persistent and heavy, bringing the risk of surface water flooding over southwest England and Wales.
"At this stage there is some uncertainty and the public are advised to monitor forecasts to keep up to date with this warning," a Met Office spokesman has been quoted by the Guardian as saying.
Over the weekend, the weather will be unsettled and stormy with a risk of exceptionally strong winds and potentially damaging gusts, the Met Office has said. Bands of heavy rain, with hill snow in the north, followed by squally showers have also been predicted for the weekend. The risk of snow will be highest across the north of the UK., a Met Office release has added.