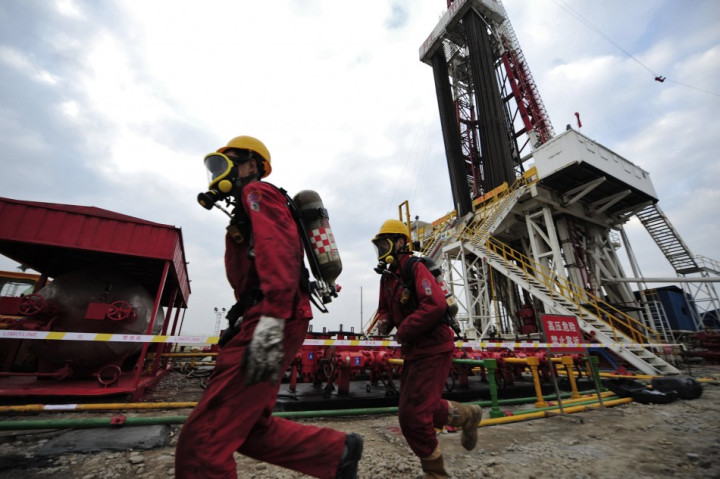 The UK is ramping up its new regulation and infrastructure to speed up shale gas development but energy companies are already tapping into the lucrative market around the world.
With a wealth of reserves hinting at a renaissance in energy production for Britain, alongside mass job creation and energy security, IBTimes UK decided to take a look at how foreign firms are already taking advantage of the sector elsewhere.
The unconventional gas source has repeatedly been dubbed as the energy industry's "game-changer" by the International Energy Agency and has allowed countries, such as the US, to enjoy depressed gas prices for over half a decade.
Shale gas uses a method of hydraulic fracturing - known as fracking - to extract the energy source from deep underground rocks. It involves drilling holes deep into the ground and then using high-pressure liquid to fracture shale rocks to release gas trapped inside.
International oil and gas firms that have enjoyed bumper profits from shale gas production in the US and in Russia are now turning their eyes towards China.
China has, potentially, vast shale gas reserves and while dozens of energy giants have expressed interest in the market, there has been little commercial production to date.
Royal Dutch Shell
Shell is one of the companies at the helm of shale gas development around the world.
However, Shell's chief financial officer recently stated that the group is not looking at the UK as a major shale gas market as an opportunity.
Shell has already allocated more than $6bn (£3.8bn, €4.7bn) to shale globally and said it is not going to exceed that sum.
"We have a successful and growing business in North America, we have great opportunities in China, Ukraine and Russia," said Simon Henry.
"The UK has to compete directly with them and right now nobody even knows whether the gas will flow."
Meanwhile, outgoing chief executive officer Peter Voser said in March that Shell would enter "significant drilling season" in 2013 and next year in China, after winning the country's approval for shared shale gas development in the Fushun block.
It is also looking to drill in the tight gas block of Jinqiu, which is also in the Sichuan province.
Industry officials said early explorations at one well tested daily gas output of 60,000-130,000 cubic metres.
BP
Reports that China's Sinopec is in talks with BP over shale gas exploration and development have circulated for over three years.
According to market reports, the duo are looking to potentially explore and develop a 2,000-square-kilometre shale gas block in Kaili in Guizhou province, as well as, a 1,000-square-kilometre block in Huangqia in the northern part of Jiangsu province.
Total
Sinopec forged an agreement with Total in March this year to jointly study a shale block in Anhui province, and drill three wells.
According to a media report, a year earlier, Total reached a preliminary agreement to form a joint venture with Sinopec to hunt for shale gas.
ConocoPhillips
Sinopec has been busy, as the energy giant also agreed to a joint study with ConocoPhillips, in relation to the block Qijiang in southwestern Sichuan province.
ConocoPhillips will carry out two-dimensional seismic survey and drill two wells.
According to media reports, ConocoPhillips has been in advanced talks with PetroChina over the development of a 3,000 square kilometres shale gas block between Chengdu, capital of southwestern Sichuan province, and Chongqing municipality.
Chevron
Chevron entered a joint study agreement, to explore for shale gas in Qiannan Basin in southwestern Guizhou province in April 2011, and has started drilling the second and third wells this year.
Eni
Eni and China National Petroleum Corporation agreed in March this year for the 2,000 square-km Rongchang block in Sichuan province.
The block is located adjacent to Shell's Fushun block.
Related Articles:
Dan Byles MP: Shale Gas Could Create 30,000 Jobs and Secure UK Energy [VIDEO]
UK Government Lifts Fracking Ban for Shale Gas [VIDEO]
Budget 2013: Shale Gas Tax Breaks Miss the Point
UK Shale Gas Revolution: Environmental Benefits Are Clear
UK Shale Gas Revolution Faces Planning Law Hurdle
UK Shale Gas Revolution: Debate 'Hot Air' Until Reserves Confirmed