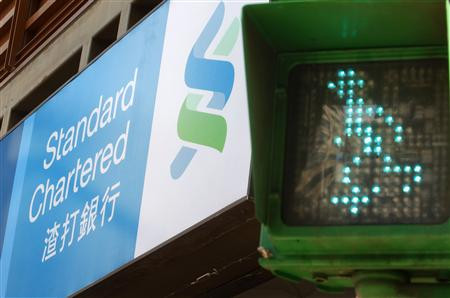 Shares in British banks were down on the FTSE 100 in morning trading after Standard Chartered received a downgrade from Bank of America Merrill Lynch.
Yesterday Standard Chartered, which focuses mainly on Asian markets, said it expected double digit profit growth for its full year results. Despite this BoA Merrill Lynch took them from "buy" to "neutral" on the grounds that the statement was disappointing when compared to market expectations.
By 10:35 shares in Standard Chartered were down 2.15 per cent to 1,771.00 pence per share, Lloyds Banking Group fell 0.16 per cent to 68.17 pence per share, RBS dropped 0.73 per cent to 42.00 pence per share, Barclays declined 0.54 per cent to 274.50 pence per share and HSBC fell 0.52 per cent to 663.20 pence per share.
Overall the FTSE 100 was up 0.07 per cent to 5,812.21.