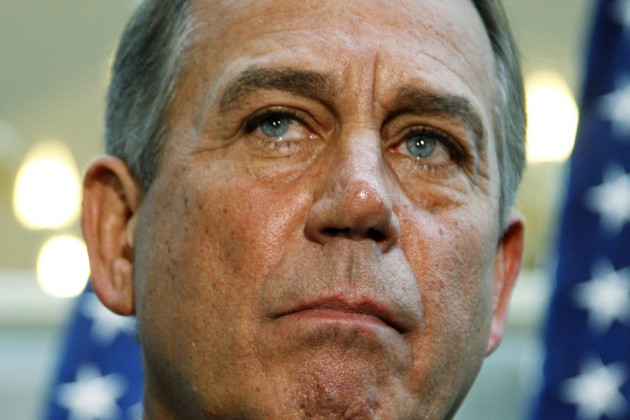 Late night discussions at the White House failed to produce a fiscal truce between the Democrats and the Republicans, but both sides appeared inclined to push for an early solution.
President Barack Obama did not immediately accept a Republican proposal for a short-term extension of the Treasury's borrowing powers, which would avert a debt default, as the Republicans would not tie it with a plan to re-finance the government stalled for more than ten days.
Key Republicans led by House Speaker John A Boehner held discussions at the White House, where they presented a plan to extend the borrowing powers to another six weeks in return for the government's assurance on opening talks on long-term spending cuts and a tax overhaul.
However, House Democrats refused to budge, pointing out that the proposal from the beleaguered Republicans was not tied with a plan to re-open the government.
The White House welcomed the offer and press secretary Jay Carney said the president was glad that cooler heads seemed to be prevailing. However, it was not enough to excite the Democrats, who have said the House Republicans are holding the nation to ransom. Carney said the president "will not pay ransom in exchange for the Republicans in the House doing their job".
The Republican offer showed that fissures were widening inside the GOP with several lawmakers questioning the hardline policy that imperils the nation's creditworthiness and the public perception of the party turning negative in the aftermath of the crisis.
Though the 90-minute discussion at the White House did not lead to a solution, it hinted that a breakthrough was possible with the language on both sides changing from confrontational to conciliatory.
"It was a very adult conversation ... Both sides said they were there in good faith, Republican Representative Hal Rogers said after the meeting with Obama.
Meanwhile, a White House statement said the resident looked forward to making continued progress with members on both sides of the aisle.
More significantly, the Republicans seemed placing less emphasis on their opposition to the president's healthcare reforms.
Instead, the debate is now focused on issues like how to end the stalemate, how far the debt limit can be extended and how much funding can be provided to the government when it opens.
The development was significant in that the Republicans appeared to go back on their threat to keep the government closed and force a damaging debt default unless the president accepted their amendments to the Affordable Care Act.
The government will not be able to pay its bills beyond 17 October if Congress does not raise the $16.7 trillion debt ceiling. A government shutdown caused by the Republican refusal to pass budget spending has already roiled financial markets and thrown hundreds of thousands of US government employees out of work.