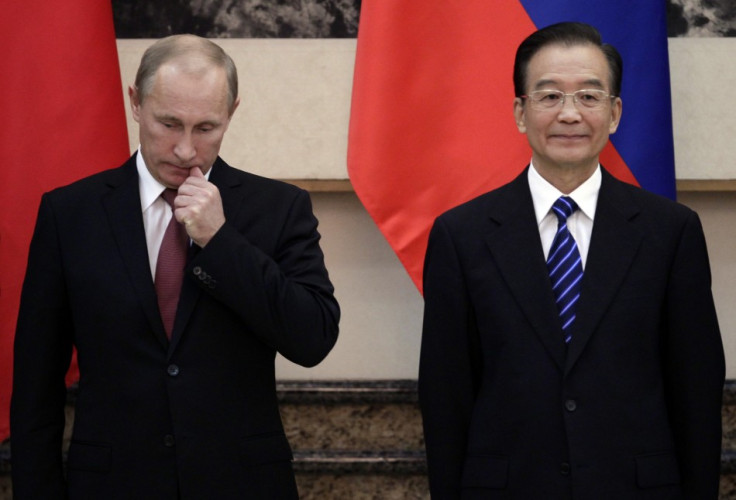 Russia said on Tuesday it is close to finalising a huge gas supply deal with China, in what would be a landmark trade agreement, but while officials insist cooperation between the two wary neighbours is only set to improve, lengthy negotiations prove the distrust is still hampering the Sino-Russian relationship.
The deal would supply the Asian giant with up to 68 billion cubic metres of Russian gas a year over 30 years.
Negotiations have been strenuous and repeatedly delayed over pricing disagreements.
"We are nearing the final stage of work on gas supplies," Putin said during a visit to Beijing," announced Russian Prime Minister Vladimir Putin, while on visit in China.
Putin has insisted he hopes the trip will help broaden trade with China, which he expects to grow to $200 billion in 2020 from $59.3 billion last year.
Putin's comments were earlier on backed by his Deputy Prime Minister Igor Sechin who said there had been "significant" progress in the gas talks with Chinese Vice Premier Wang Qishan.
Sechin also hinted both camps had solved their differences over China's debts for Russian oil exports, saying "This question has been settled and removed from the agenda."
However analysts have remained cautious, with many doubting Putin's visit would actually lead to a significant breakthrough in the talks.
Talking about the two countries' relationship Putin has also reiterated his will to increase cooperation and insisted more improvement in this domain is needed before the gas deal can be signed.
"Our talks a taking place in a business-like atmosphere, with the mutual desire to find compromise on difficult questions which inevitably arise given the sheer volume of our relationship," Putin told Premier Wen Jiabao in the Great Hall of People, a cavernous official building in central Beijing.
"As far as the as the economy and trade are concerned, issues of practical nature are being resolved, and this is good," Putin added in remarks made at the start of his talks with Wen that reporters were allowed to see.
"Those who sell always want to sell at a higher price, while those who buy, want to buy at a lower price. We need to reach a compromise which will satisfy both sides," said Putin, who did not directly mention the gas issue.
Putin's visit was welcomed by China's Xinhua state news agency who said it "will mark ever-deepening China-Russia cooperation".
Russia and China have deepened their energy relationship in the last few years, increasing Russian supplies in crude oil, and cooperation in electrical power, energy saving, renewable energy, and nuclear power.
Recently, the Russian state bank VEB signed a new deal with the China Development Bank (CDB) investing $1.5 billion in building the first stage of UC RUSAL's 750,000-tonne Taishet aluminium smelter, and efforts has been made by both camps to promote direct investment.
China and Russia have also in the last few months, showed a united front on issues such as Libya and Syria, proving their interests overlap in several spheres of international security.
Last week, both countries vetoed a European-drafted U.N. Security Council resolution condemning Syria for its bloody crackdown on protesters, directly opposing the west.
Despite a stronger show of unity, the arduous gas negotiations, that started five years ago, between Moscow and Beijing, are a reminder that relations are still governed by mutual distrust.
Also China's reluctance to become too dependent on its neighbour when it comes to energy supply shows the border disputes that erupted during the cold war between the two are still affecting the Sino-Russian relationships.