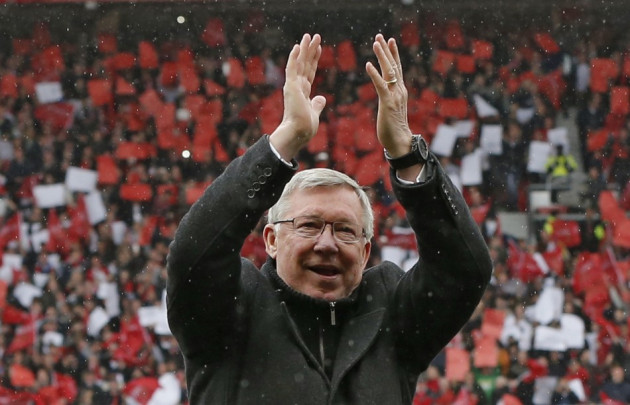 Sir Alex Ferguson has confirmed Wayne Rooney handed in an official transfer request at Manchester United prior to his retirement at the end of last season.
Rooney's future was subject of much rumour during the last three years of Ferguson's tenure at Old Trafford, with reports of the England international requesting a transfer on two occasions.
But Ferguson has revealed in his new autobiography that Rooney did indeed make such a demand to leave, a request which was followed by a discussion with agent Paul Stretford.
"He came into my office the day after we won the league and asked away," Ferguson wrote. "He wasn't happy with being left out for some games and subbed in others. His agent Paul Stretford phoned David Gill with the same message.
"I couldn't understand it at all because only months before he'd said he was at the biggest club in the world and he wanted to stay for life. We just don't know what's changed the boy's mind. David (Gill) was shocked, I was shocked,' Ferguson said three years ago.
"I had a meeting with the boy and he reiterated what his agent had said. He wanted to go. I said to him. Just remember one thing: respect this club. I don't want any nonsense from you, respect your club.
'What we're seeing now in the media is disappointing because we've done everything we can for Wayne Rooney, since the minute he's come to the club. We've always been there as a harbour for him. Any time he's been in trouble, the advice we've given him... I've even been prepared to give him financial advice, many times."
While Rooney remains at United, Ferguson oversaw the departure of several big-name players including David Beckham Roy Keane and Ruud van Nistelrooy all of whom departed the club in acrimonious circumstances.
Following an interview with MUTV when he criticised a number of first-team players, Ferguson reveals Keane's future at Old Trafford was over. Ferguson subsequently asked chief-exectuvie David Gil to sell the Republic of Ireland international.
'I think the dressing room relaxed when Roy left,' writes Ferguson. 'Relief swept the room.'
During a press conference to launch his autobiography, Ferguson added: "The nature of the man you can expect that. That is the type of personality Roy is. The reason I had to explain it: it happened so quick, his actions were so quick.
"For one reason or another he decided to criticise his own teammates. We couldn't release the video. Two of our young players got booed at a match and we decided we had to do something. I couldn't lose my control in his particular situation. If I had of let it pass the players would have viewed me differently. Throughout my career I've been strong enough.
"Roy overstepped his mark and there was no other thing we could do. We did well by him, paid up his contract, gave him a testimonial in front of 75,000 people. I did everything to honour the player he was for Manchester United."
On Beckham, Ferguson says he felt his marriage to Victoria Beckham 1999 began the process where he became too big for the club.
"I think that he has to control a little better the publicity machine on Victoria's side," he said.
"It has been interfering with his life and you can't have that. You have got to be in control of the situation.
"You are a footballer and your wife's job is different from yours. There is nothing worse than when you pick up a paper and see, "Oh Christ, where is he now?"'
Ferguson has also revealed how Ruud van Nistelrooy swearing at him during the Carling Cup final in 2006 was the final straw in the Dutchman's United career, prior to the striker falling out with other first team players including Cristiano Ronaldo and Gary Neville.