For Sir Chris Hoy, the best moment of his career has been the Athens Olympics, when he was on the middle of the podium for the first time of his life to receive his gold medal.
Hoy is currently the favourite to take gold in his third consecutive Olympics, after becoming the first British Olympian in 100 years to take three gold medals - in Beijing in 2008.
But the Scot revealed to IBTimes UK that his proudest moment was the first time he became an Olympic gold medallist.
"The proudest moment of my career would be my first gold medal in Athens," he said.
"Just that feeling of stepping on the podium and being announced as Olympic champion for the first time. That was pretty special."
But winning in London this year, on his home turf and with a home crowd, would be even more special, says the 36-tyear-old.
"Yeah, that'd be right up there," he admitted. "The Olympics has a special place in my heart and in all athletes' hearts. That's the pinnacle, that's the one you want to win.
"Obviously, world championships, Commonwealth Games and World Cups, they're all important but to be Olympic champion is a huge deal and to do it in front of a home crowd would probably be the greatest of all."
Hoy, who is representing Gillette in its Great Start campaign which celebrates the work of coaches, competed at the London Velodrome for the first time in the 2012 World Cup in February. The cyclist stormed to gold in both his individual events, and won bronze in the team sprint.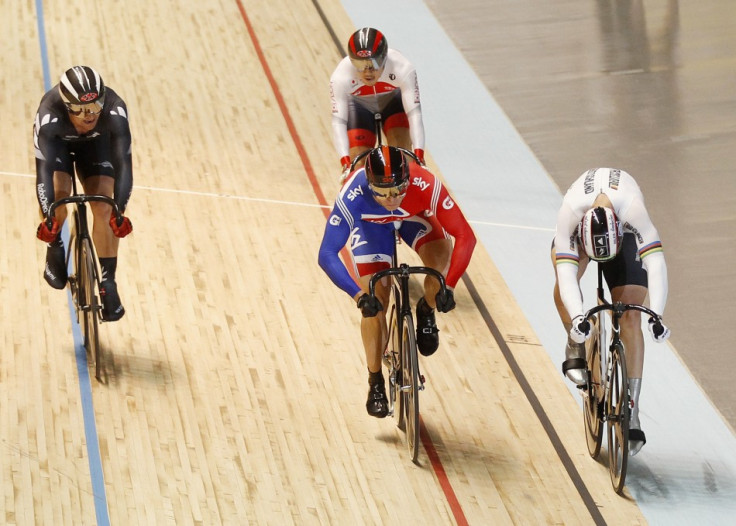 And while the newly built stadium holds a somewhat modest 6,000 people, Hoy claims that the atmosphere is unbeatable when the crowd gets going.
He recalls: "It was incredible. It's not that much compared to a football stadium, and you think it can't be that loud but until you actually experience the noise of a 6,000-strong crowd going mental and screaming.
"It's a very acoustic sound at the Velodrome, with the low roof and seating that wraps around the track, it focuses all the noise and the attention into the centre of the arena.
"It's a really gladiatorial atmosphere - the London World Cup was probably one of the best races I've ever been to in that respect. I'm sure that at the Olympics the crowd will be even more into it and it'll be a hugely exciting experience."
Preparations for the Olympics will hit full speed for the cycling team, and Hoy believes that while Team GB have had a great start to the year, there is still room for improvement.
"We've had a really good season so far," he said. "We're still making some changes and there's been a new rider added to the team.
"We have the potential to get it all right on the big day but it's been an almost perfect season so far and we feel there's more to come as well so that's quite exciting."
This week Hoy's mother revealed that her son had owned a girl's bike as a child, but the Edinbrugh-born athlete was quick to dispel any rumours that it had any kind of feminine decorations.
He explained: "My first bike was a bike that they bought in a jumble sale, for £5, and my dad stripped it down and re-sprayed it and put bmx handlebars on it.
"It looked brilliant - to me that was a bmx bike. And after about three or four weeks I broke it doing a jump and snapped the frame.
"I didn't have a bike so before I got a new one my neighbours said 'oh, our daughters got a bike she hasn't used in a while, you can use it,' so yes, on loan I had a bike which was a girl's bike.
"It was just until I got my new bike. It wasn't like it had tassels on the handlebars though if that's what you're thinking."
Sir Chris Hoy is a Gillette ambassador. Gillette's 'Great Start' campaign celebrates coaches and inspires the next generation by encouraging men to get into coaching. Facebook.com/GilletteUK