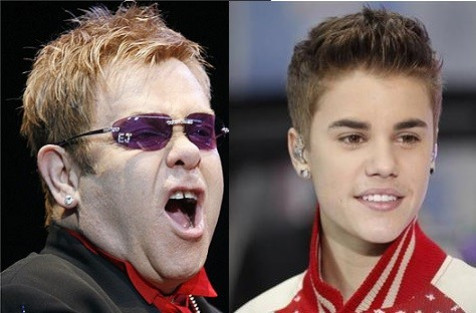 Sir Elton John has revealed that he feels sorry for child stars like Justin Bieber who find fame too young.
The veteran star claimed he would not want to be the 19-year-old teen heartthrob, who he believes has been deprived of a normal childhood.
"It's hard when you're young to go through that incredible fame, when you haven't had a childhood and then you want to grow up," John told BBC Radio 4's Front Row.
"Luckily, fame came to me when I was 23, and then I lived my teenage years during my fame.
He continued "but I wouldn't want to be Justin Bieber or any of those young artists. It's tough on them."
John's comments come as concerns that Bieber could be spiraling out of control continue to mount.
The Baby hitmaker is currently being sued by a photographer who claims the singer punched and kicked him last year in a scuffle at a Calabasas California, movie theatre.
In March the Baby hitmaker was caught on camera threatening to beat up a photographer as he left his central London hotel.
And in January he made headlines when pictures of him smoking marijuana with a friend during a party in Newport Beach surfaced online.
Meanwhile, John also has accused talent shows like BBC1's The Voice and ITV's X Factor of producing "nonentities".
He claimed that these shows have harmed music by propelling 'wannabes' into stardom before they are ready and then moving on to the next hopeful.
"Nobody on The Voice in America has had a hit record," he said. "Nobody on The Voice in England has had a hit record - they're nonentities.
"And they're only as good as the next song. I hate that, I hate people being cast aside. It breaks my heart to see people like Michelle McManus who won Pop Star, whatever it was, but it's not fair."