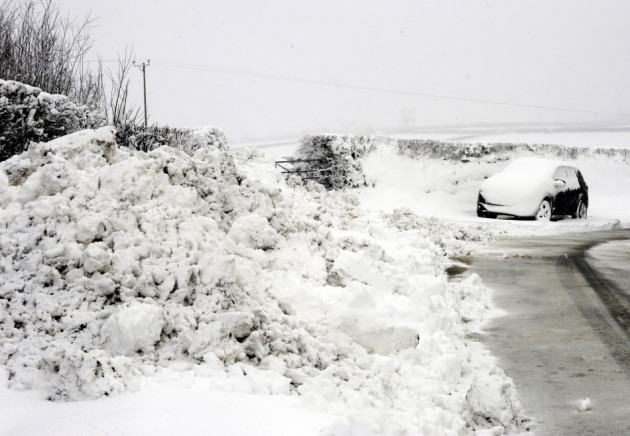 Almost 1,000 schools have shut today because of the heavy snow that swept across the UK at the end of last week.
Thousands of workers were also left stranded this morning as train operators cancelled many of their routes due to the adverse weather conditions.
Southeastern cancelled many of its early morning services, having to replace trains with buses between Sittingbourne and Sheerness-on-Sea in Kent. It warned commuters to expect delays of up to 90 minutes.
Southern Railway said it is experiencing major disruption to many of its services, including the Brighton Mainline, West London, Mainline West, Mainline East and the Gatwick Express.
Virgin Trains has cancelled its many of its late afternoon and evening services between London Euston and Preston, Lancaster and Liverpool Lime Street. It is also running a reduced service between London and Manchester Piccadilly, Wolverhampton and Birmingham New Street.
Transport for London is also reporting delays to its underground service. The Metropolitan line is experiencing severe delays because of engineering work finishing late, while the Bakerloo line has severe delays between Queen's Park and Elephant and Castle because of "operational issues".
The Overground is part suspended, with no service between Surrey Quays and Clapham Junction and between Willesden Junction and Richmond.
Flights cancelled
On the roads, the A628 is closed both east and westbound; eastbound between the junctions with the A616 and A57, and westbound between the A57 and A616. This is due to an accident and it is expected to re-open from 12.00pm.
Around 100 schools are shut in Wales, mainly in the south, where there was heavy snowfall on Friday. At least 500 schools are shut in the West Midlands and over 100 are closed in Northamptonshire.
Heathrow Airport is running a reduced service, cancelling 10 percent of its flights. A statement from the airport said: "As low visibility is forecast from 16:00 today, the flight schedule has been revised to reduce the number of flights operating and allow passengers more time to adjust their travel plans.
"If you are travelling, we recommend that you regularly check the status of your flight with your airline before you set out and allow extra time for your journey to the airport."
Eurostar has said all its trains between London and Paris are being delayed due to speed restrictions put in place because of snow and ice in the UK and northern France.
It has also cancelled a number of trains and said people planning it use its service today should consider altering their plans: "We strongly advise changing your travel plans for another day," it said.
Snow is expected to continue to fall in parts of the UK today and tomorrow, the Met Office has said.