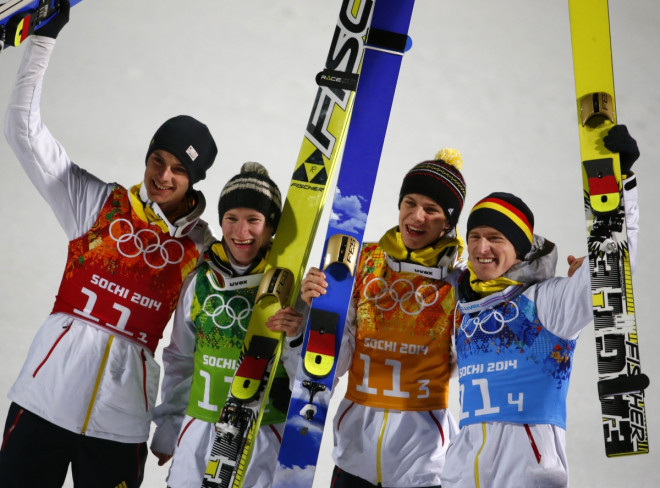 Four countries won the coveted Gold Medal across five competitions on the tenth day of the 2014 Sochi Winter Olympics.
Belarus made the biggest gains on the day with victories in Freestyle Skiing and Biathlon. While Anton Kushnir won gold in Men's Aerials, Darya Domracheva claimed the honours in Women's 12.5km Mass Start.
Germany lead the medal chart, having amassed the most number of gold medals at Sochi.
They raised their gold tally to eight with the victory in the Men's Team event for Ski Jumping with a total of 1041.1 points. Austria emerged the runners-up in the event, with 1038.4 points while Japan bagged the bronze with 1024.9 points.
Great Britian are yet to add silver to their tally and have one gold and bronze, won by Elizabeth Yarnold in Women's Skeleton and Jenny Jones in Snowboard - Ladies' Slopestyle event.
Although the Germans lead the gold medal chart, Russia and USA are on top of the overall medal tally at Sochi with 18 medals each. Russia's total comprise five gold medals, seven silver and six bronze, while the US has five, four and nine, respectively.
Alexey Voevoda and Alexander Zubkov finished first in the Two-man Bobsleigh competition with a Total Time of 3:45.39, while US athletes Steven Holcomb and Steven Langton finished third clocking, 3:46.05. Alex Baumann and Beat Hefti took the silver for Switzerland, finishing with a total of 3:46.05 on the clock.
With the rankings decided by the number of gold medals won across all events, the standings of the top five teams in the 2014 Sochi Winter Olympics at the end of the 10th day are as follows:
Rank Nation Gold - Silver - Bronze - Total
1 Germany 8 - 3 - 2 - 13
2 Russian Federation 5 - 7 - 6 - 18
3 Netherlands 5 - 5 - 7 - 17
4 USA 5 - 4 - 9 - 18
5 Norway 5 - 3 - 7 - 15
For Real-Time Updates of the overall medal chart, refer to Sochi 2014 Medal Count: Where to Find Real-Time Updates [CHART]
'Find The Data' provides a complete list of medals won in the ongoing Winter Olympics by all countries.