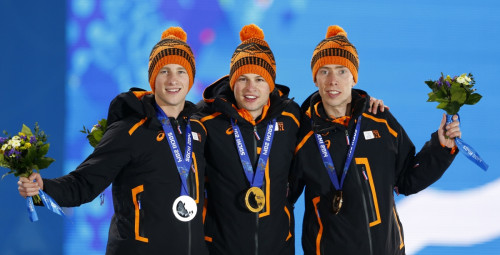 You may as well forget about football; the Dutch never dominated in that sport like they have on the ice. Here they have a real reason to be slipping and sliding about, not one which consists of inexcusable antics for footballing gain as was famously seen against Brazil in the last World Cup.
Instead when you think of the Netherlands, think of speed skating, a sport in which the Dutch really are world beaters.
The Netherlands were once Winter Olympic minnows, sending just two speed skaters and five bobsleigh athletes to their first games. They did however show promise at an early age on the ice after they picked up their first three medals in Olso 1952, all three for speed skating.
Since then they have risen up the ranks at pace as their athletes propel themselves around a 400m track, pushing speeds of almost 40 miles per hour.
And it seems to be a case of history repeating itself in light of previous winter Olympic results. In Turin 2006, nine medals were won by the Netherlands, all nine in speed skating. Vancover 2010 saw a slight anomaly, seven medals were won in speed skating and one, surprisingly considering Holland's notable lack of mountains, in snowboarding.
Now, 62 years since they first medalled, the orange-clad army of skaters have picked up no less than 12 of the 18 Olympic medals available during the first few days of scheduled speed skating action at Sochi's Adler Arena. There are still six more still up for grabs.
Dutch supremacy in this event is unrivalled. Their current haul comprises of four gold, three silver and five bronze medals. Meanwhile their closest competitors are the Russians with a meagre two medals; one silver, one bronze.
Not only that, but the Dutch have medalled in every speed skating event in these Sochi games thus far. On two occasions, in the 500m and 5000m races, taking all three podium positions.
Of course we're used to hearing of clean sweeps in Olympic games. The Americans are notoriously good at snowboarding – although that's not necessarily been the case in Sochi – and the Norwegian's have forever ruled in the cross-country. But what of the Dutch? What's their secret to success?
Almost half of the Netherlands' 41-athlete ensemble is made up of speed skaters and that's no surprise considering that in Holland the toddlers get their skates on, as it were, from the moment they learn to walk.
Sven Kramer, who on day one of the games retained the 5,000m gold and a new Olympic record, commented: "We are all born on either skates or the bike," - presumably it was the bike for the 50% of his compatriots who travelled to Russia without their skates.
Of course the many canals of Holland, frozen over during the winter months, provide perfect highways – if not race tracks – for those looking to take a more direct, efficient and scenic route to see family and friends.
It's not uncommon to see some of the 100km of frozen canals in the capital of Amsterdam being used by commuters and school runners alike on a daily basis.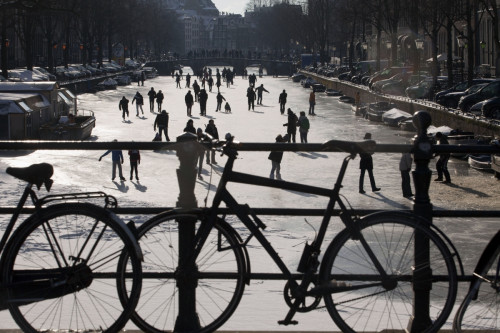 Certainly, owing to a largely flat terrain, much of which sits below sea level, there is very little chance of using gravity to get around as other nations do. Instead many of the 16.8 million Netherlanders make the most of the water that fills their lakes, rivers and canals as they glide from A to B just as their ancestors did over 1,000 years ago.
If you needed any further proof that speed skating runs in the very blood of the Netherlanders you need look no further than Michel and Ronald Mulder. The twin brothers won gold and bronze on the first Monday of the games in the 500m, their nations first in this distance.
"We grew up with speed skating," Michel Mulder said.
"Every little kid in the Netherlands does it.
"The level of competition is very high in Holland and that helps us a lot."
The Dutch are currently sitting pretty in fourth place in the medals table and are yet to pick up a medal outside of speed skating leaving no question that the sport means everything to them.
For now it seems the men and women in orange are set to continue carrying a nation on their backs and on two blades, certainly no other country is close enough even to clip their heels.