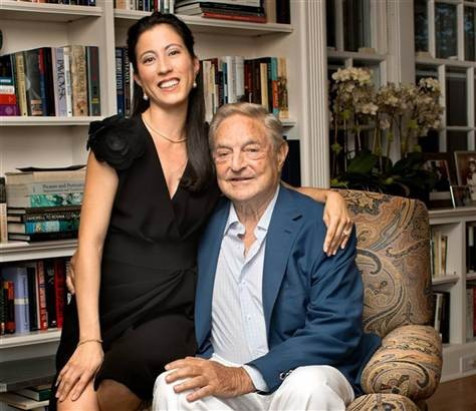 Billionaire George Soros is to get married again at the age of 82 - to a woman who is half his age.
Twice-married Soros, who has five children, will tie the knot with Tamiko Bolton, 40, who runs an internet yoga education business. She has a master's degree in business from the University of Miami.
Soros formally announced his engagement to Bolton, 40, during his birthday party at his summer home in Southampton, New York.
Bolton is seven years younger than Soros' daughter, Andrea.
Her engagement ring was a Graff diamond in a platinum setting on a rose gold band.
They met in The Hamptons, an enclave for the mega-rich on Long Island, in 2008.
In 2011 Soros appeared in court to fight a lawsuit by ex-girlfriend, Brazilian soap opera star Adriana Ferreyr, who claimed he broke a promise to buy her an apartment.
"I wish him the best of luck on his marriage, and now that he doesn't need the apartment, hopefully the case can be resolved," said Ferreyr's attorney, Robert Hantman.
The billionaire made most of his money 20 years ago in financial speculation, including taking on the Bank of England over sterling devaluation.
Hungarian-born, he moved to London in 1947, where he studied philosophy at the London School of Economics. He moved to the US and started his financial empire and is ranked 22nd in Forbes's world rich list with about $20bn in assets.
Famous for his liberal views and political campaigns funding, he donated $1m to support legalisation of marijuana and once the removal of George W Bush from the presidency as "the central focus of my life" and "a matter of life and death".