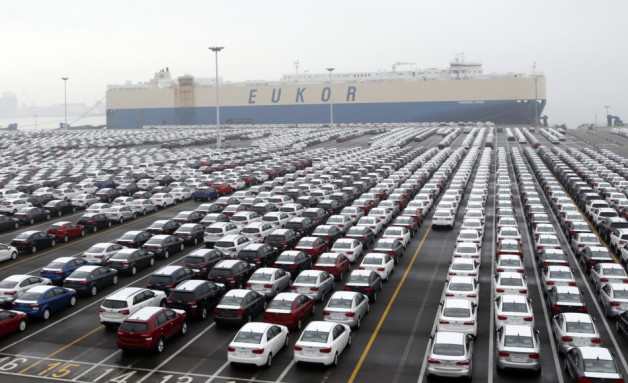 South Korea's economy has expanded at the slowest pace in three years in 2012 as the country's exports, facility investment and private spending continued to be weak on the back of the global economic slowdown.
The Bank of Korea (BOK) said that the country's gross domestic product (GDP) improved 2 percent in 2012 in line with the bank's projections made in January. This was the country's slowest increase in three years.
However, the GDP growth in 2011 was revised up to 3.7 percent from the initial estimate of 3.6 percent.
Korea also revised down all its quarterly figures except the second quarter of 2012. The economy expanded at 0.3 percent on quarter in the last quarter of 2012, compared with no growth in the third-quarter, according to the revised data. Initially, the country estimated 0.4 percent and 0.1 percent growth rates for the fourth and third quarter, respectively.
The fourth-quarter growth also missed economists' expectations for a 0.4 percent growth, indicating the necessity for implementing stimulus measures by policymakers to revive Asia's fourth-largest economy.
The weak growth in the quarter was primarily due to a 1.1 percent decline in fourth-quarter exports sequentially, compared to a 1.9 percent rise in the third quarter. In addition, facility investment contracted 1.8 percent and construction investment fell 1.2 percent during the fourth quarter.
On a year-over-year basis, fourth-quarter GDP rose by 1.5 percent, compared to a revised 1.6 percent growth in the third quarter.
South Korea is suffering from sluggish domestic demand and weak exports amid the global economic slowdown.
"Lacklustre consumer spending and facility investment caused the economic growth to slow down last year," Jung Young-taek, the director of the BOK's national accounts division.
Jung added that the ongoing global economic uncertainty prompted more companies to refrain from capital investments.
The county's exports account for more than half of the GDP, and any swing in the global economy will affect the country's output. Exports fell in 2012 for the first time in three years amid weak growth in China, the country's largest export destination, and the European debt crisis.
Analysts expect the country's growth to remain slow at least in the first half of 2013 on the weakness of Japanese yen, weak private consumption and lower corporate investment.
The newly-appointed South Korean Finance Minister Hyun Oh-seok earlier said that the nation's growth rate for 2013 will be less than the ministry's current forecast of 3.0 percent. He added that the government will unveil a stimulus package by the end of March to spur growth.
Earlier, the BOK kept its benchmark interest rate unchanged at 2.75 percent for a fifth consecutive month following two rate cuts in 2012.