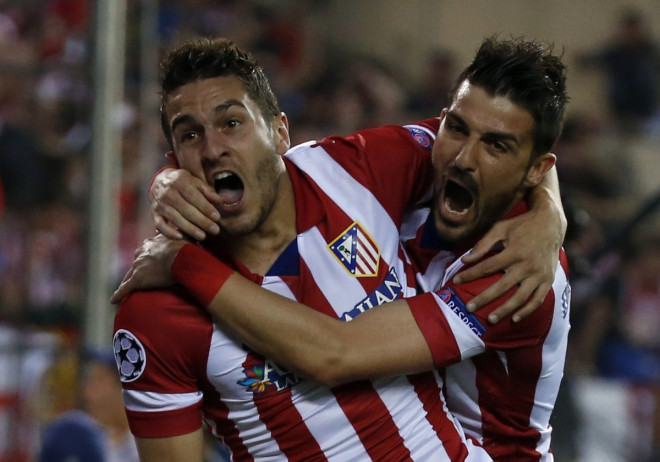 Cholo Simeone's side made history as they reached their first European Cup semi-final for 40 years after an early goal from Koke took Atletico through at the expense of Barcelona which means that for the first time in seven years, the Catalan giants will not be among the last-four.
The Spanish press have lavished praise on Atletico Madrid while describing Barcelona's performance as the "end of an era" after Los Rojiblancos sent the Catalans crashing out of the Champions League.
Below, a selection of reactions to the humbling of the once-mighty Barca as seen across the sports-mad Spanish tabloids;
Catalan sports newspaper Sport screams: "Although it hurts us, Atletico were better." "Atletico's faith breaks Barca's European dream," "Awful Barcelona's image, which accused Messi's failure," "With justice, Los Rojiblancos reigned over the Catalans," "Messi disappeared."
Also Mundo Deportivo claims: "Good bye [Barca]," "Atletico to the semi-finals!" "Barca not lived up the maximum European competition's requirements," "Except Neymar, none of the stars appeared – [Leo] Messi wandered, Cesc [Fabregas] did not assist and [Andres] Iniesta did not do what was expected of him." "The defeat could be historic," "Atletico get into the semi-finals fairly."
Marca says: "[Atletico] was great." "Cholo Simeone's Atletico eliminated Barca with great football, courage, ambition and strategy – without [Diego] Costa and Arda [Turan]," "Barca played in a permanent state of melancholy for the poor performance of their main stars." Meanwhile, Daily AS similarly claims: "[Atletico won] using up courage and heart," "Atletico for the eternity," "This Atletico are capable of anything."
El Pais says: "Too much Atletico for an old club as Barca," "Barca are past – they are not eternal," "Atletico's victory was well-deserved as thunderous". And El Mundo runs with: "[Atletico] a deserved semi-finalist – there are not limits for them," "Atletico demolished with their football's ancestral sense the Barcelona's unpolluted academicism."
Besides the Spanish press, worldwide press has also pronounced about it. Gazzetta dello Sport says: The end". France Football: "Barcelona have lost their world supremacy". Bild: "Atletico put [Leo] Messi out."
After this huge defeat, Barcelona must to get up to face the end of the season as good as possible. Though the European dream has been destroyed by a brilliant Cholo Simeone's side, they still have options in La Liga, as they sit second place one point behind leaders Atletico, as well as they are in the Copa del Rey's final against eternal rival Real Madrid.