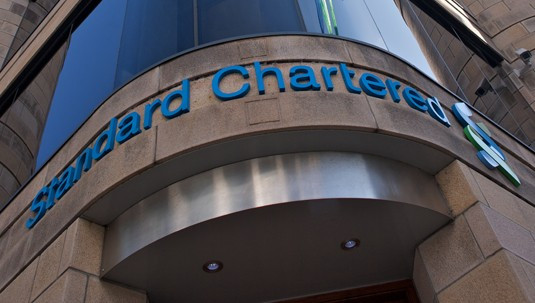 Standard Chartered anticipates an additional payment of $330m (£205m) to US regulators in order to settle claims that the Asia-focused bank did not comply with US sanctions while carrying out transactions with its Iranian customers.
The payment would further affect the company's profit growth for 2012, as it seeks a ninth consecutive year of record net income.
"The Group remains in active and constructive discussions with the other US agencies on the resolution of the Group's historical US sanctions compliance. We anticipate that these discussions will conclude very shortly and are likely to result in the Group paying a sum of approximately US$330 million," the bank said in a statement.
The company earlier paid $340m to the New York State Department of Financial Services (NY DFS) in the third quarter, after the agency accused the bank of helping Iran launder about $250bn by hiding 60,000 transactions and keeping false records.
The bank admitted that it had gone wrong with some of its transactions, but it was not agreeing on the total amount.
The settlement amount was the largest ever paid to an individual regulator as part of a money laundering case.
Including the settlement amount to the DFS, the pre-tax profit for the Group is expected to grow at a "mid single digit rate". Excluding the settlement, the profit before tax would have been up by a "double digit percentage".
The bank also expects to report full-year revenue growth in the "high single digits". On 30 October, the bank's finance director, Richard Meddings, projected that the bank might miss its earlier growth target of at least 10 percent.
Standard Chartered added that its revenues have been impacted by the "continued weakness of Asian currencies against the US dollar."
Nevertheless, revenue in markets including Africa, Malaysia, China and Indonesia are expected to go up by 10 percent or more, as the lender sees "significant opportunities" in Asia, Africa and the Middle East.
While its rivals including Citigroup are going for job cuts, Standard Chartered is looking to expand its reach and increase the headcount by 1,800 by the end of 2012. The bank employs 86,865 people as at the end of 2011.
According to a Reuters report, rival bank HSBC is likely to spend $1.8bn in settling money laundering probes, higher than the $1.5bn amount the bank has set aside for the purpose.
In June, ING Bank agreed in June to pay $619m to the federal government and the Manhattan District Attorney's office to settle similar allegations.