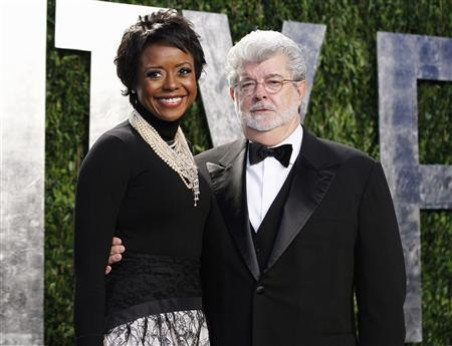 Star Wars creator George Lucas is preparing to walk down the aisle for the second time after popping the question to his longtime girlfriend Mellody Hobson.
The 68-year-old Hollywood producer and screenwriter has been dating Hobson, the president of Chicago investment firm Ariel Investments LLC, for seven years.
Lucas's daughter Amanda expressed her joy over the news with fans on Twitter earlier this week.
She wrote: "George Lucas, Mellody Hobson Engaged: "Star Wars' Director, Businesswoman Set To Marry" Congratulations Dad & Mellody!:)".
Lucas was previously married to Oscar-winning film editor Marcia Lucas from 1969 to 1983. Along with Amanda, 31, the couple also have two other children, Katie, 26, and Jett, 19.
This will be the first marriage for Hobson, who serves on the board of directors for Hollywood studio Dreamworks Animation SKG Inc, cosmetics company Estee Lauder Companies Inc, coffeehouse chain Starbucks Corp and Internet coupon company Groupon Inc.
Lucas rose to fame directing the 1971 science-fiction film THX 1138, before releasing Star Wars in 1977. It is the second highest-grossing film franchise of all time.
In November 2012, Lucas sold Lucasfilm and the Star Wars franchise - which comprises six movies and spin-off cartoons - to the Walt Disney Co for a reported $4.05 billion.
"For the past 35 years, one of my greatest pleasures has been to see Star Wars passed from one generation to the next," he said.
"It's now time for me to pass Star Wars on to a new generation of filmmakers.
"I've always believed that Star Wars could live beyond me, and I thought it was important to set up the transition during my lifetime."