Stephen Fry has called on David Cameron, Sebastian Coe and the International Olympic Committee to boycott the 2014 Russian Winter Olympics in Sochi following new anti-gay laws.
The TV presenter wrote an open letter saying the treatment of homosexuals in Russia was similar to the persecution suffered by Jews during WWII.
Referring to the 1936 Berlin Olympic Games, where Hitler tried to ban Jews and black people from the Games, Fry said Hitler gained confidence because the Olympic committee turned a blind eye to the crimes he was committing.
"The Olympic movement at that time paid precisely no attention to this evil and proceeded with the notorious Berlin Olympiad, which provided a stage for a gleeful Führer and only increased his status at home and abroad. It gave him confidence," he wrote.
"All historians are agreed on that. What he did with that confidence we all know. Putin is eerily repeating this insane crime, only this time against LGBT Russians."
A law recently passed in Russia makes it illegal to promote homosexuality in any way. It is punishable by imprisonment.
Vitaly Mutko, Russia's sports minister, has said the government will enforce its anti-gay laws during the Games in Sochi. He said that while gay or lesbian athletes will not be punished for their sexuality, if they "go out into the streets and start to propagandize", they will be held accountable.
Fry, who is both gay and Jewish, continued: "It is simply not enough to say that gay Olympians may or may not be safe in their village. The IOC absolutely must take a firm stance on behalf of the shared humanity it is supposed to represent against the barbaric, fascist law that Putin has pushed through the Duma.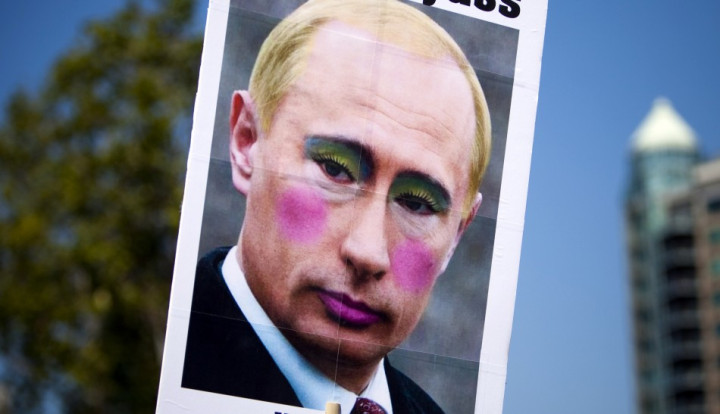 "An absolute ban on the Russian Winter Olympics of 2014 on Sochi is simply essential. Stage them elsewhere in Utah, Lillyhammer, anywhere you like. At all costs Putin cannot be seen to have the approval of the civilised world.
"He is making scapegoats of gay people, just as Hitler did Jews. He cannot be allowed to get away with it."
Appealing to his readers, Fry said: "Every time in Russia (and it is constantly) a gay teenager is forced into suicide, a lesbian 'correctively' raped, gay men and women beaten to death by neo-Nazi thugs while the Russian police stand idly by, the world is diminished and I for one, weep anew at seeing history repeat itself."
Fry said holding the Games in Russia would "forever smear" the legacy of the Olympics and wipe any glory from London 2012 away.
He urges Cameron to resist diplomatic pressures and stand up for humanity and reminds the IOC of its own rules, including "Act against any form of discrimination affecting the Olympic Movement".
Addressing Cameron directly, he concludes: "You showed a determined, passionate and clearly honest commitment to LGBT rights and helped push gay marriage through both houses of our parliament in the teeth of vehement opposition from so many of your own side.
"For that I will always admire you, whatever other differences may lie between us. In the end I believe you know when a thing is wrong or right. Please act on that instinct now."
The IOC has said it was looking to come to a resolution over Russia's anti-gay laws, saying it was using "quiet diplomacy" to ensure the Games were a success, adding that "the idea of a boycott is misplaced".
READ: Russian Nazi Group Films Gay Men Being Tortured [DISTURBING VIDEO]