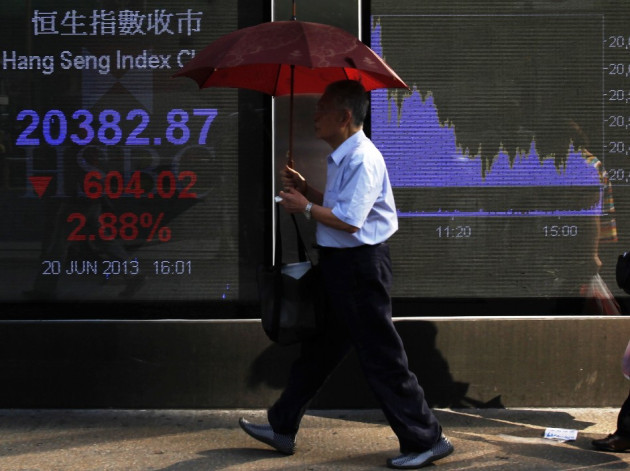 Asian equities recovered from their sharp opening losses, but continued trading in the red in the morning session on Friday, following a sell-off on Wall Street where indices were pulled down by fears that the US Federal Reserve could begin trimming its asset buys later this year.
The Fed's $85bn a month bond-buying program has stimulated the US economy and the markets the world over for a while now.
Hong Kong's Hang Seng was down 1.46% or 298.07 points to 20084.80.
The Japanese Nikkei was down 0.20% or 26.22 points to 12988.36
The Shanghai Composite was down 0.92% or 19.21 points to 2064.81.
South Korea's Kospi was down 2.03% or 37.50 points to 1812.99 points.
Australia's S&P/ASX was down 0.69% or 32.60 points to 4725.80.
However, The People's Bank of China's (PBC) 'window guidance' to major state-owned banks, asking them to restart funds supplies to ease the liquidity crunch in the world's second largest economy, pacified hassled money markets.
On the afternoon of 19 June, speaking at a press conference in the US after the two-day Federal Open Market Committee (FOMC) meet, Federal Reserve Chairman Ben Bernanke said the central bank could begin to reduce its bond-buying program later this year if the US economy continues to improve, as Fed officials expect it to, and could end its purchases by mid 2014.
"Based on the chairman's comments and our unemployment rate forecast, we now expect a reduction in the pace of asset purchases to $70bn per month at the September meeting ($35 billion in Treasuries and $35 billion in agency MBS)," said Dean Maki, the chief US economist at Barclays.
"Based on our outlook for the unemployment rate to fall to 7.0 percent in Q1 14, we expect asset purchases to be concluded by March 2014, a bit earlier than the mid-2014 expectation the chairman indicated in the press conference," Maki said
On 20 June, Wall Street indices tumbled, and ended lower following Fed chief Bernanke's comments.
The Dow finished 2.3% lower or 353.87 pointsto 14,758.32. All 30 Dow components entered the negative territory. The Nasdaq Composite ended 2.3% lower or 78.57 points to 3,364.63. The S&P 500 index ended 2.5% lower or 40.74 points to 1,588.19. The index has 10 major industry groups and all 10 finished lower.
In Hong Kong, China Construction Bank's stock gained 0.6% while Industrial & Commercial Bank of China inched up 0.2%, paring early losses.
In Shanghai, China Merchants Bank's stock gained 0.8%, while China Citic Bank rose 0.5%.
However, shares of China Construction Bank dropped 8.4% in Shanghai as the stock traded without dividend rights.
In Tokyo, brewer Kirin Holdings' stock fell 8.2%, commercial vehicle manufacturer Hino Motors shed 6.2%, while rival Isuzu Motors was down 6%.
Steel maker JFE Holdings dropped 4.9%. Realty major Mitsui Fudosan was down 4.5%, rival Sumitomo Mitsui Realty and Development was down by about 5%, while Mitusbishi Estate shed 4%.
Shares of energy producer Inpex were down 2%.
In Sydney, gold miner Medusa Mining's stock dropped 8% while rival Newcrest Mining's stock fell 4.9%.
Shares of Mirabela Nickel and mining services firm Transfield Services fell 6% each.
Uranium producer Paladin Energy shed 1% while Karoon Gas Australia was down 0.5%.
In Seoul, index heavyweight Samsung Electronics shed over 1%. LG Display's stock was down 4%, following 20 June's 3% decline.
LG Chemical's stock was down 4% while rival Hanwha Chemical shed 2%. Korea Zinc lost 2.9%.
Brokerage stocks Hana Financial and Woori Finance shed 2% each.