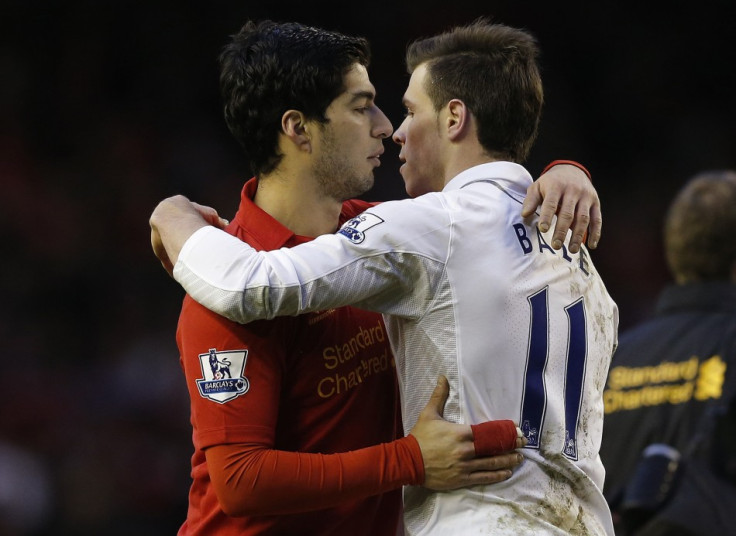 Liverpool and Tottenham were both in action on Wednesday, but while fans will have kept a close eye on the results, they were a mere foot note in the seemingly never ending saga that is the future of star players Luis Suarez and Gareth Bale.
These two are the central characters, one a flawed genius who courts controversy, the other a virtuous performer seemingly seeking a grander stage. And like every good thriller there have been twists and turns to keep us engaged, leaving us eager to skip to the final chapter where all will be revealed.
Unfortunately we can't simply turn a few pages to find out if there is a happy ending; instead we must wait [in]patiently to discover their fate.
So while 95,000 enthusiastic fans turned the iconic MCG into a sea of red, delivering a spine tingling rendition of You'll Never Walk Alone, desperate to catch a glimpse of their heroes, it was a late cameo from Suarez that created the headlines.
Often described as the pantomime villain, the Uruguayan is loved and loathed in equal measure and despite only featuring for 18 minutes he once again evoked an outcry of emotion from supporters of the beautiful game.
"Suarez is everything I hate about modern footballers, possibly the most ungrateful player to play for the club, come on Madrid," declared one Liverpool fan on Twitter, while an Arsenal supporter was all together more forgiving.
"I used to hate Suarez and I'll continue to dislike him if he doesn't join. If he signs I'll be happy. Hypocritical? Oh well."
Liverpool would emerge victorious over the ironically named Melbourne Victory thanks to goals from Steven Gerrard and Iago Aspas but after the game manager Brendan Rodgers was once again asked to speak about his controversial striker.
"Nothing new to report, he is very much a Liverpool player," was the curt response to the amassed media.
Liverpool will now fly to Bangkok for their final tour match but whether Suarez takes his seat on that flight is up for debate. Arsene Wenger may well offer him a first class ticket back to London, while Carlo Ancelotti, flush with money from the sale of Gonzalo Higuain, could hijack proceedings and divert him to Madrid.
This is sure to run and run, much like Bale when free from niggling injuries that prevent him from taking part in the water polo match against Sunderland in Hong Kong.
With torrential downpours, wretched conditions and a dreadful surface, Bale must have been reminded of his childhood days playing in the Welsh valleys. But the flying winger was nowhere to be seen, not even in the squad. And as a result, the rumour mill was cranked into overdrive.
Had he really agreed to join Real Madrid? were Tottenham giving in and accepting defeat? No, it was merely an injury that prevented Bale from seeing his side fall 3-1 to Sunderland thanks to goals from Cabral, Wes Brown and David Moberg Karlsson.
After the game the usually cool and collected Tottenham boss Andre Villas-Boas even cracked under the constant pressure to supply information.
"I can't make any more comments because I made them at the press conference before this game," said Villas-Boas, surely wanting to scream his answer. "I don't want to repeat myself in every press conference about this situation."
And so the story rumbles on for both our lead characters. Fate could determine that the two are united in Madrid. All we know for sure is that the words of a certain Clash song are probably swilling around their heads. Should I Stay Or Should I Go Now.....