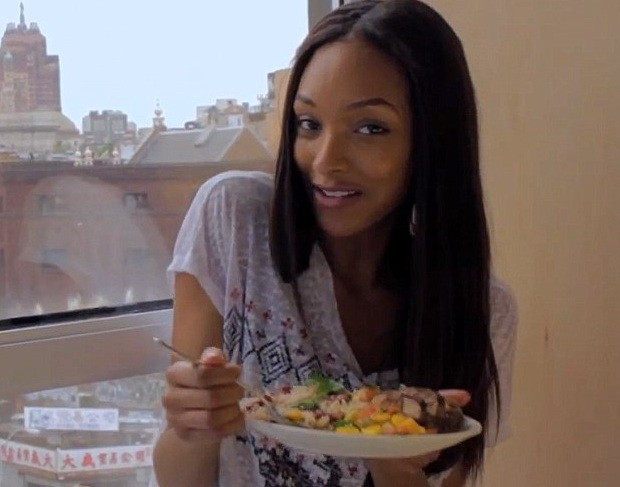 British supermodel Jourdan Dunn has walked right off the runway and into the kitchen after landing her own cooking show.
The 22-year-old beauty stars as host of online show Well Dunn, which features on Jay-Z's website Life + Times.
In the premiere episode of the series, the Caribbean native whips up some jerk pork with rice, beans and salsa.
She says: "What's the point of having jerk if it's not going to knock your socks off?"
The mother-of-one later pounds some garlic while informing viewers that it's a great stress reliever.
"Bash the garlic," she instructs. "This helps if you've had a really rough day, you can get the end of it and be like, whack!
"Or just think of someone you hate, an ex-boyfriend, and bang, bang, bang."
During the show the fashionista, who found fame after being discovered at a Hammersmith Primark, also recalls her "Amazing" experience of covering the Vogue Italia All Black issue.
"It was also my first time shooting with Steven Meisel and I was just super duper nervous," she admits.
"I saw Iman walk in and I was like, "Oh my god, oh my god, oh my god, I'm just going to stay and watch all the supermodels come by." She said.
When she finally tucks into her dinner the model, jokes: "See, I can prove that I can cook, and I can eat. I do eat."
After the show's debut Dunn told fans on twitter that she was "not trying to become a 'Model Chef".
She told her 39,000 followers: "I just wanted you all to see another side of me, cooking is just something I really enjoy doing."
Watch the first episode of Well Dunn here: