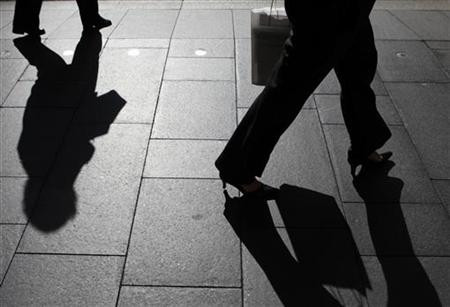 UK unemployment rose again in the last quarter, while the number of young people without a job topped one million at the end of September.
Data released by the Office for National Statistics on Wednesday revealed that unemployment rose by 129,000 to 2.62 million, the highest level of jobless Brits since 1994.
Latest figures show the current unemployment level rose to 8.3 per cent, making it the highest unemployment rate since 1996.
Jobless figures also spiked for those in the 16 to 24 year-old category, pushing youth unemployment to 1.02million, an increase of 67,000 compared to the previous quarter.
Consequently, the youth unemployment rate hit a record 21.9 per cent
The figures place further pressure on Prime Minister David Cameron to do more to boost an economy at risk of a double-dip recession and as Europe's escalating debt crisis shakes financial markets.
A Call For More Support Services as Youth Face Growing Unemployment
James Kenrick, advice services manager for Youth Access, a national organisation for youth advice and counselling support, said the most worrying aspect is the increase in long-term youth unemployment.
"The aspect that worries us most is the knock-on problems that then follow on if a young person is unemployed for a reasonably long time."
Issues such as homelessness, financial debt, and deteriorating mental health are among the key concerns for the young who face ongoing unemployment in Britain.
Kenrick said there is concern around the fact there appears to be no government-funded plan to tackle these problems seriously.
"There's been a large increase in demand on services from young people with housing, money and mental health problems... There's now high pressure on existing services to help these young people with these issues."
If youth experience prolonged unemployment, they potentially face serious challenges in making themselves attractive to prospective employers, said Kenrick. "The longer you're in that position, the harder it is to get out of it. These things can become very entrenched and get worse."
Kenrick calls for increased support services available to Britain's youth as existing services struggle to cope with the added pressure. "There needs to be more support services for young people. There's a need for better services."
Keep a Positive Attitude and Do Not Despair
Managing director of recruitment consultancy FreshMinds Talent, James Callander, said although the latest unemployment figures deliver disappointing news, we shouldn't become disheartened.
"It's really up to individuals to make themselves more employable. The economy will improve in time and it's important to differentiate yourself from the competition in the market."
Youth unemployment could be experiencing high numbers at the moment due to graduate recruitment freezes or "compression" back in 2009, suggests Callander. "There was limited graduate recruitment in 2009 and so you've this lost generation that is still looking for jobs."
Further challenges could be in store as the UK approaches winter and a typically slower job market in the coming months, adds Callander. "The next sixth months will be very tough if you are not in work, but if you're in work it will be important to stay in your job, work hard and show how you can differentiate yourself or stand out in your place of employment."
But it's important to remain positive. Young people have a lot to offer because they are often flexible, enthusiastic and willing to learn, said Callander. "There is no silver bullet to these things; it's really a patchwork of activity and initiative. From youth groups, to employers, universities - all being a little more hungry to engage and be active."
Callander advises those currently facing unemployment to move into some kind of work, even if it's not in the same area as your previous employment or within your desired industry. He suggests finding temporary or short-term opportunities, or taking advantage of the increased seasonal employment as we approach Christmas.
"It's much easier to get a new job when you're already in work. Even unrelated jobs will equip you with transferrable skills that you can use in every workplace and use as a stepping stone into your next role."
What do Youngsters Think?
British youngsters took to Twitter to express their sentiments on the unemployment issue.
One said: "I'm unemployed but that doesn't make me lazy - just means there doesn't seem to be enough jobs to go round these days!" and another tweeted: "Hope the government pays attention to this issue and create jobs for the young people."
"Complaining about youth #unemployment then cutting jobs & benefits to somehow dig ourselves out of the deficit makes no economic sense," a Twitter member said.