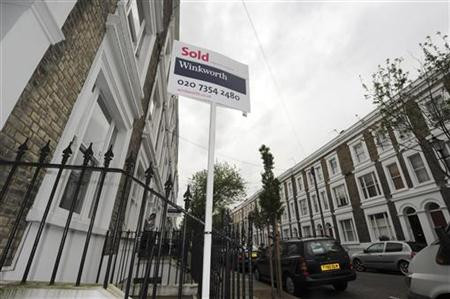 House prices have started to fall say the Royal Institute of Chartered Surveyors, RICS after July's figures showed that 25 pct of them, found a weakness in the market compared with 11 pct showing house price rises.
The news emerges after months of economists' warning that house prices are weakening after a series of data including surveys by Halifax, the Land Registry and Hometrack show little or no growth after houses flooded the market.
The survey of RICS however is traditionally recognised as 'having its hands on the pulse' of the market having predicted rises and falls over the last ten years.
"Given the amount of slack in the market, it is not surprising that price expectations turned more negative, with the balance falling from -6 to -28." said the RICS survey, "Sales expectations remain positive overall, but surveyors turned less optimistic than last month, with the balance slipping from +17 to +8."
Sales in the North West and London however continued to show house price increase, said the Royal Institute of Chartered Surveyors.
"The flat DCLG (Department for Communities and Local Government) house price data for June, together with the markedly weaker July RICS survey, fuels our belief that house prices will fall back around 3% over the second half of 2010 and very likely soften modestly further in 2011." added Howard Archer, economist at IHS Global. Therefore, we believe that house prices could be some 8-10% lower by end-2011 compared to their mid-2010 levels."
WAIT AND SEE?
There is however significant evidence that buyers are 'waiting and seeing' as house price/earnings ratios have moved up overall from their early-2009 lows and are above their long-term averages.With low interest rates, and mortgage lenders on the rise, pressures remain good for house price growth on top of a 'period of correction':
"On balance, while we believe that a sharp correction in house prices is unlikely, we do expect them to ease back by around 3% over the second half of 2010." said Howard, IHS Global.
Barclays meanwhile, kicked off August with a drop in their Woolwich 80% LTV mortgages with a 'drop-lock' facility to ensure customers can get out of tracker mortgages once interest rates start to rise.
Andy Gray, head of mortgages for Barclays, says: "With speculation this week that UK interest rates are set to stay at record lows until 2014, the drop lock facility provides customers with peace of mind that they can go into a low tracker rate now and switch at a point in the future when they need greater security."
All fixed rate mortgages meanwhile revert to a lifetime tracker rate at base plus 2.49% after the fixed rate period - currently two, three of five year.
SIGNS OF WEAKNESS IN CONSUMER CONFIDENCE
The news however was not helped by the BRC's retail sales figures which saw weakening in July.
The British Retail Consortium which covers over 60 pct of retailers in the country warned of slowing sales which rose 0.5 pct in July.
"The benefit from sunny weather receded...while the World Cup boost ended, [the] overriding factor is consumer confidence." said BRC Director General Stephen Robertson.
The figure was up 2.9 pct year-on-year."A small month-on-month increase in food prices is driving some of the growth seen in retail sales this month.
So, once again it's the non-food sector which is finding the environment particularly challenging." said KPMG's Head of Retail, Helen Dickinson."
A jittery housing market and warm weather drove home-related sectors into negative like-for-like territory." she added, "Summer sales, some of which started earlier this year, did little to entice consumers back in any decisive way as confidence has been affected by concerns over the future impact of fiscal changes - but spending at least continues to hold up and is likely to continue to do so, at least until the effects of Government measures begin to hit people's pockets."
The retail sales are a sign of consumer confidence and are related to house prices, as when people buy goods, they are also buying houses (and vice versa).
"The overriding factor is consumer confidence - it's fallen recently, though people are still more confident than this time last year. Talk of public spending cuts is unsettling customers and they are concentrating on essentials." said the BRC's Stephen Robertson adding that talk of interest rate rises are also not good for confidence.