UK Home Secretary Theresa May has echoed the sentiments of the FBI, GCHQ and the Obama administration that strong end-to-end encryption should not be allowed to interfere with police investigations.
"The British government believes encryption plays a valuable role in today's society. It helps keep people's personal data and intellectual property safe from theft by cyber criminals. It helps our economy grow and prosper. But as President Obama has said, we cannot be in a situation where technology is also used by terrorists and criminals to escape justice," she said during a recent Five Country Ministerial meeting in Washington DC.
"The government has a responsibility to protect national security and ensure public safety. Communications service providers have a responsibility to their customers to ensure their privacy. Together we can find a way that achieves both."
The comments come amid a separate encryption controversy following an attempt from US federal authorities to force global technology firm Apple to break the encryption on an iPhone recovered from San Bernardino shooter Syed Farook. Responding to the court order, Apple chief executive Tim Cook said that decrypting the device would ultimately create a "backdoor" that would put millions of customers at risk from cyber attackers or government surveillance.
May, who was speaking at the DC-based Centre for Strategic and International Studies, instead called on the other nations involved in the "Five Eyes" cyber agreement – US, Canada, Australia and New Zealand – to step up their cyber operations and bolster intelligence sharing. May insisted that this approach was key to better fight extremist groups such as the Islamic State (Isis), also known by its Arabic acronym, Daesh.
"The hard truth is Daesh [IS] is operating in a way that we have never seen before," May admitted. "The reality is we have never seen this number, demographic, or range of ages travelling to take part in a conflict. Nor have we seen this scale of territorial ambition before.
"Faced with the growing threat I have described, we must act with more urgency and with greater joint resolve than we have before. We must be more open to sharing intelligence with our partners, and more proactive in offering our expertise to help others.
"We must counter the twisted narrative peddled by Daesh and show it for what it is – a perversion of Islam built on fear and lies. And we must organise our own efforts more effectively if we are to bring order to those failed states most beset by disorder and disarray."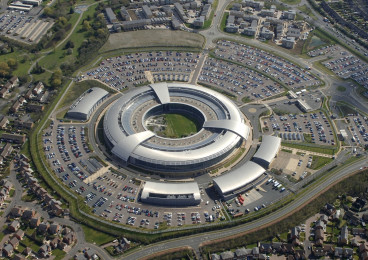 The Snoopers' Charter plug
To help combat the burgeoning IS threat, May – who added that the UK regularly "works with internet companies" to remove terrorist propaganda online – used the backdrop to talk up the ongoing Investigatory Powers Bill, also known as the Snoopers' Charter. The proposals in the bill include bulk interception powers, bulk computer hacking powers and an outline to force service providers to store data for 12 months. Ultimately, it aims to expand the spying powers available to the government, police and intelligence agencies.
"To ensure [intelligence agencies] have the powers they need to do their jobs in a digital age, we are committed to introducing legislation that both protects the security of our nation and the public's private lives," said May.
"Our draft Investigatory Powers Bill brings together all of the powers already available to law enforcement and the security and intelligence agencies to obtain communications and data about communications; it introduces a double-lock on the way these powers are authorised – using Secretary of State approval, backed up by the decision of a judge; and it ensures these powers are fit for the digital age.
"The government has now received three parliamentary committee reports on the draft legislation. We are carefully considering their recommendations". Indeed, the most recent committee report, from the UK Joint Committee, repeatedly slammed the proposals for a lack of clarity.