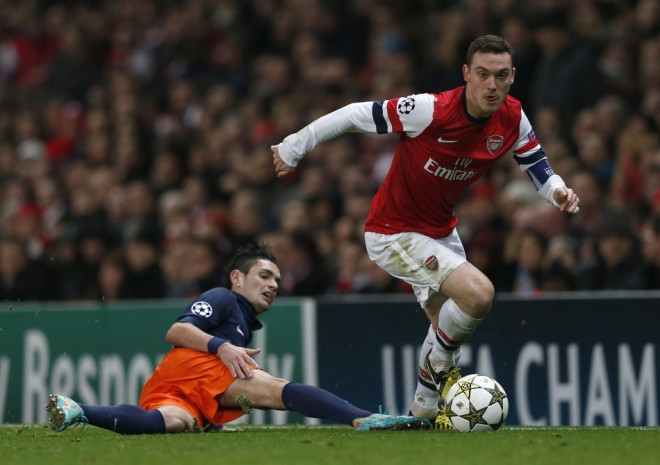 Thomas Vermaelen has revealed that he is trying his best to get back into the starting line-up after putting in an impressive performance against Bayern Munich.
The Belgian has lost his starting place to the defensive partnership of Laurent Koscielny and Per Mertesacker, who have been in brilliant form since ousting the Arsenal captain on their last trip to the Allianz Arena in 2013. This was his second start in consecutive games after Everton where he started at centre-back alongside Mertesacker and has been linked with a move out of the club in the summer in search of more game time.
Manchester United are reported to be interested in the player, who are in the market for a defender to replace Nemanja Vidic, who is on his way to Inter Milan at the end of the season. However, the 28-year-old is insistent that he will try his best to keep fighting for a place and secure his future with the Gunners for the long term.
"It is not easy, but I try to stay positive. Firstly, I have been injured in the last couple of weeks, but when the boss needs me, I try to play well," Vermaelen said.
"I know anything can happen, so I am happy to play when he needs me.
"From my point of view, I hope it is as much as it can be. I work hard for the team and that is the only thing that I can do," he added.
The defender also poured water over the speculation surrounding his departure, stating that he has no idea for what is going on in terms of transfers.
"There has been a lot of speculation, but I can't talk about it because I don't know what is going on. My focus is at Arsenal at the moment. There is still a lot to play for – I can't do anything about rumours," he concluded.