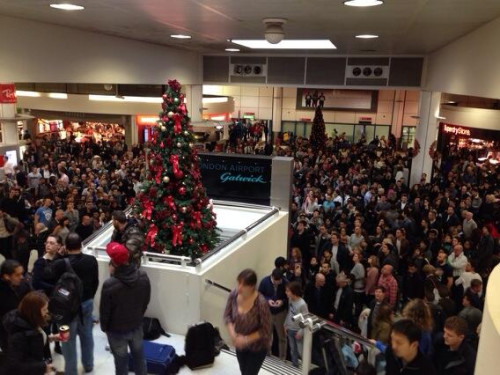 Thousands of people travelling home for Christmas are stranded at Gatwick Airport, after a power cut forced the airport to cancel scores of flights.
The failure of two electric substations has forced the cancellation of at least 15 flights in the North Terminal and delayed many more, according to airport authorities.
However, the exact number is unclear, as EasyJet said that it had been forced to cancel 38 flights in total.
The cuts meant that many were not able to check their luggage in manually.
A spokesman for Gatwick Airport said that passengers were facing "average delays of around an hour". However, they were unable to say how many planes were affected.
Toilets, coffee shops and restaurants were also closed by the cut, exacerbating the misery of travellers.
The airport said that all departing flights are now leaving from its South Terminal, but many passengers have complained of a lack of clear information from authorities.
Graziella Vella, a six-months-pregnant make-up artist from Kilburn in north west London, was due to fly to Malta to spend Christmas with her family.
The 37-year-old told the Daily Mail: "I am fuming and absolutely desperate - there has been no information at all and we can't make alternative plans.
"We're just hanging in limbo... at least if they said 'Nothing is going to happen, come back tomorrow', but there is no information of any kind.
"It is absolutely choc-a-bloc and in the check-in room upstairs there are 50 people queuing for the one toilet that is working."
An airport spokesman said: "The cause of the power outages is related to the heavy rain overnight and fixes for the issues are being progressed as quickly as possible.
"Gatwick would like to apologise for the inconvenience caused to some passengers today and we are working hard to keep disruption to a minimum.
"We are advising passengers to check with their airlines before travelling and leave extra time for their journeys to the airport, especially given the weather-related road and rail disruption."
Passengers travelling to the airport have also faced severe obstacles, after the storm that lashed the country yesterday forced the cancellation of the Gatwick Express train service.
Southern is now running a replacement bus service between London Victoria train station and Gatwick.
Ten Easy jet flights heading to Gatwick were forced to land at Liverpool's John Lennon Airport by the storm and told to find their own way to their destination.
In Heathrow, flights were grounded overnight.
Limited services have also begun between Brighton and Haywards Heath, Eastbourne, Newhaven and Barnham and between Bognor and Barnham. Services between Redhill and Three Bridges are also running.