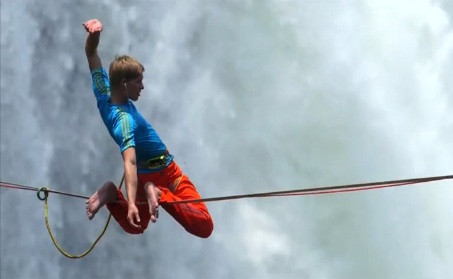 Two tightrope walkers have successfully made a vertiginous crossing of Zimbabwe's Victoria Falls.
Lukas Irmler, 26, from Germany and Reinhard Kleindl, 34, made the 100-metre crossing on a slack line stretched along the face of the waterfall.
Both made the crossing successfully, without slipping off and having to rely on their safety cords to prevent them falling into the torrent below.
Irmler and Kleindl spoke of the difficult conditions and mental challenge they faced making the crossing.
"Here you have a lot of spray, a lot of water in the air, floating beside you, splashing your face and it's intimidating on the one side, but also distracting," Irmler, a teacher, told Sky News.
"You need to have a clear visual view of the environment, you need to be focused on the anchor point to the very end you want to walk to, and not getting distracted by a lot of water crashing by the side, which is very hard mentally."
Journalist Kleindl added: "Optically it's very difficult because the spray comes from the sides and it's like waves, they try to drag you, so it's really difficult for the optics and obviously everything is very heavy because it's soaked with water."
A Unesco World Heritage Site, the falls are known locally as The Smoke That Thunders.
They carry more than 500 million cubic metres of water during the rainy season. The drop is about 100 metres to the canyon below, and at their widest point, the falls measure 1.7 kilometres.
The pair had negotiated with authorities for months to gain permission to make the tightrope crossing and spent two years training for it.
Last week, Nik Wallenda made successful back-to back crossings of two Marina City towers in Chicago without a harness or safety net.
The 25-year-old made one crossing blindfolded, and was watched by thousands.
Previously, he had crossed the Niagara Falls and Grand Canyon on tightropes.