Beyonce's mother, Tina Knowles, has given a speech in which she revealed initimate details about her life for the first time.
The 60-year-old, who is just as private as her superstar daughter, was the keynote speaker at the Women & Money leadership luncheon in Houston, Texas last week when she gave the moving speech.
She spoke about her journey and overcoming the hardships in her life including mistreatment at school, finding her passion as a hair stylist and how her marriage became really bad after she got pregnant with Beyonce.
Speaking on Beyonce's early years, she said for four years she was a stay-at-home mother and then her marriage got "tumultuous" causing her to question what she wanted out of life.
"I was having all these problems and I was like: 'What have I done? I've been out of the job market for four years.' Self-esteem low so what do I do now? During that time, I had started beauty school and I had maybe three months to last with that," Knowles said.
"But after I got pregnant, my marriage just got really bad and I knew I had to do something. So I got very focused on going to school. And by the time I had the baby, I already had a clientele. I built a salon at my house and I'd do hair there."
She then revealed how she had to leave newborn Beyonce in the care of her grandmother so she could set up her hair salon busines.
"Eight weeks after I had my baby, I took her to her paternal grandmother and I said: 'Listen, you gotta keep her cause I gotta open up a business,' because I would never be in this position again. I would never be totally dependent on someone. I would never give up on myself.
In the aftermath of filing for divorce from Beyonce's father, Mathew Knowles, at the age of 58, with 33 years of marriage behind her, she said she was "very sad" and described how she suffered from low self-esteem.
"When you look at someone else, you look at them and say: 'They're attractive. They have a lot of good stuff going on for them. They have no right to have low self-esteem. They have no right to feel sorry for themselves.' Well, it doesn't matter who you are, what you are, what you've done, what you you have. You're a person, you're a human being," she said.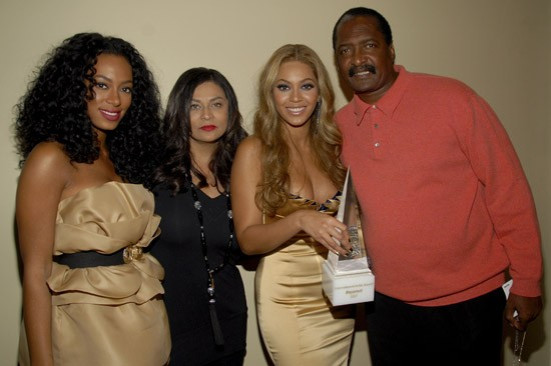 However, after a while she found strength and joy in the opportunities she gained working as a clothing designer and started telling herself "I don't have the right to feel sorry".
Speaking on finding love at 59 with her boyfriend Richard Lawson, she admitted dating was the "scariest thing in the world" but after focusing on herself and being happy she finally met a guy through a mutual friend .
"Finally, a girl that worked with me said: 'This guy I know wants to take you out. He just thinks you're hot!' And I'm like 'Really?!' So she said 'Yes!' My kids got me ready, and I changed clothes five times. I didn't want to be too this and too that," she said.
Summing up the stormy periods in her life she referenced Beyonce's hit song survivor from her Destiny's Child days.
"You're not going to get stuck there, you are not going to die, you are going to survive," she said. "My daughter wrote a song called Survivor some years ago and it's my favourite song by them because it says 'When the times get bad, I'm going to work harder'."