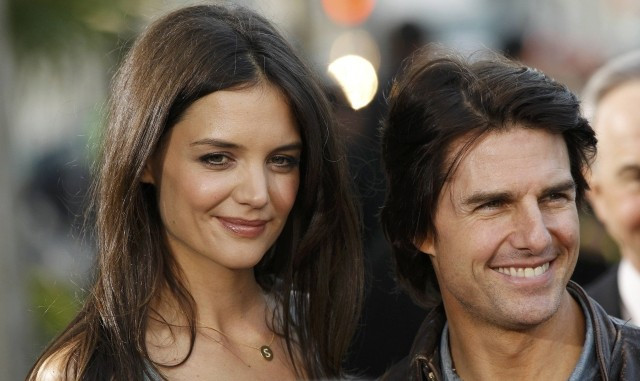 Famously dubbed as TomKat by the media ever since Hollywood star Tom Cruise jumped on the couch during the popular The Oprah Winfrey Show in 2005, professing his love for Katie Holmes, the celebrated "hottest" Hollywood couple is finally splitting.
Katie Holmes has filed for divorce from actor Tom Cruise, her husband of more than five years and a famous advocate of a spiritual faith called Scientology. The news was confirmed by Cruise, who admitted the event had "deeply saddened" him.
"Kate has filed for divorce and Tom is deeply saddened and is concentrating on his three children. Please allow them their privacy to work this out," Cruise's representative told People.com, which first reported on the divorce. Cruise adopted two children when he was married to his second wife Nicole Kidman, from 1990 to 2001.
Custody of the couple's children appears to be a point of some argument. Holmes is seeking sole legal custody of their daughter, Suri Cruise.
"This is a personal and private matter for Katie and her family. Katie's primary concern remains, as it always has been, her daughter's best interest," Holmes's attorney Jonathan Wolfe said to People in a statement.
Cruise, 49, got the blow from his 33 year old wife just a few days before his 50th birthday on 3 July.
Blindsided Cruise
Sources say that Tom Cruise was totally uninformed about Holmes' decision to end their marriage until he learned about the divorce suit. The actor is in Iceland, filming his new sci-fi film Oblivion.
Is Scientology to Blame?
Scientology is supposedly the major factor behind the divorce. Cruise has been following Scientology since the 1990s and his first wife, actress Mimi Rogers, was believed to have introduced him to the controversial religion that rose in the 20th century. Cruise, an advocate for the Church of Scientology, has been known for being outspoken and giving controversial statements on psychiatry.
The "irreconcilable differences" of Tom Cruise and Katie Holmes, who married in November 2006, are also said to be related to their six year old daughter Suri Cruise's religion choices. While Cruise has been arguing that Scientology should be an important part of Suri's life at her age, Holmes did not want him to control religion-related matters, according to insiders, TMZ reports.