Tottenham have entered talks with Ajax for playmaker Christian Eriksen after the Dutch champions' technical director Marc Overmars confirmed the north London club's approach in signing the highly-rated midfielder.
Overmars revealed Spurs chairman Daniel Levy was in the Netherlands to discuss over the possible transfer of the Danish international to White Hart Lane. He also went on to add the deal is yet to be finalised, but Ajax has given permission for the player to speak to the north London side.
"[Tottenham chairman] Levy was here today to discuss the transfer. There is no agreement yet until it's signed. Eriksen is going to talk with Tottenham now," Ajax technical director told Telegraaf TV.
Eriksen's contract at Ajax runs down next summer and has already expressed his desire to make a move away from the Eredivisie club. Overmars, who was a player with Arsenal, expressed his disappointment of allowing the 21-year-old to leave Amsterdam ArenA.
"Obviously, if it happens, we won't be happy at all to lose Eriksen. Especially since we, the trainers and staff, feel that he was improving and was becoming more influential in games this season. We would've liked to see him stay at Ajax for another season. The length of the contract is very important and previously made agreements also play a role," Overmars said.
Eriksen is likely to follow AS Roma's Erik Lamela after Spurs reached an agreement for the club record transfer in excess of €30m for the South American.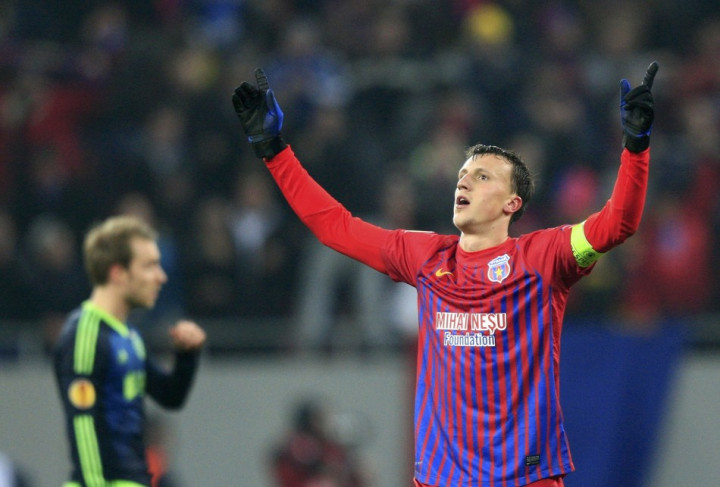 Meanwhile, Steaua Bucharest defender Vlad Chiriches will also join Andre Villas-Boas' side after the centre-back touched down in England to complete his move. He went on to thank the Romanian champions for allowing the deal to materialise after the first round of negotiations broke down in July.
"I hope there is not very big difference between the Premier League and the one I played in. I will miss my colleague and friend, Mihai Pintilii, the most, and I thank [Steaua manager] Laurentiu Reghecampf for everything," Chiriches explained.
"I need to see what will happen in England and if I can play like what made me noticed at Steaua. It was very hard after the first round of negotiations failed, I even cried when I found out. It was very hard for two days," he added.