Kyle Walker believes that Tottenham will continue to be a threat to England's top teams, even if they are left without Luka Modric before deadline day.
Modric is the subject of a great deal of interest from Real Madrid and PSG, and as Andre Villas-Boas took over the managerial role at Spurs, he admitted that the playmaker may leave 'for the right price'.
And while he was integral to getting Tottenham into the Champions League two seasons ago, Walker believes that the club have the depth to survive without him if he does in fact depart for greener pastures.
"Obviously Scotty [Parker] is sitting mopping up in front of the defence, but Luka is our creative midfielder so it was very important [to keep him last season]," he told Sky Sports.
"But we have got bags of midfielders, bags of players who can do that - Rafa [van der Vaart], what a player he is. So I think there's strength in depth at Tottenham.
"But... it's the gaffer and chairman's decision and it doesn't matter what I say."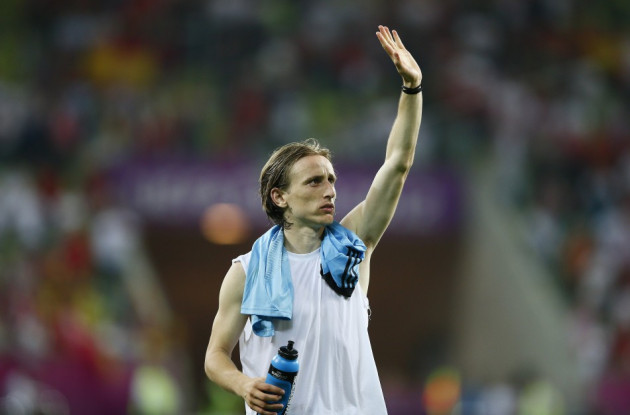 Van der Vaart had also been connected with an exit from Spurs this summer, but the Dutchman today said that he would likely stay at White Hart Lane, despite public interest from Hamburg.
"It's unbelievable how my name is speculated around Europe," he told German newspaper Bild. "I can only say these are only speculations. I will probably stay at Tottenham."
For Tottenham, establishing themselves as a top four contender has been a difficult road, and chairman Daniel Levy has pushed the mantra that they are not a selling club.
Modric handed in a transfer request last summer, but Levy worked hard to ensure that he stayed with the side, despite his wishes to move elsewhere.
And while Walker wouldn't be drawn in on the speculation surrounding Modric now, he said he understood the importance of keeping the 24 year old on board last summer.
"Luka is a Tottenham player as it stands right now so that's up to Luka, the gaffer and the chairman - whatever they think is the best thing for the club," he explained.
"Obviously all the lads think he is a quality player and a valuable player to the team. But like I say, it's not for me to comment on that, it's up to them.
"The chairman made it quite clear we are not a selling club so it was very important he stayed."