Tottenham have reportedly offered England international Jermain Defoe in a player/cash deal for Belgian striker Christian Benteke. The Aston Villa forward has enjoyed a remarkable first season in English top flight, scoring 19 goals in 34 Premier League games.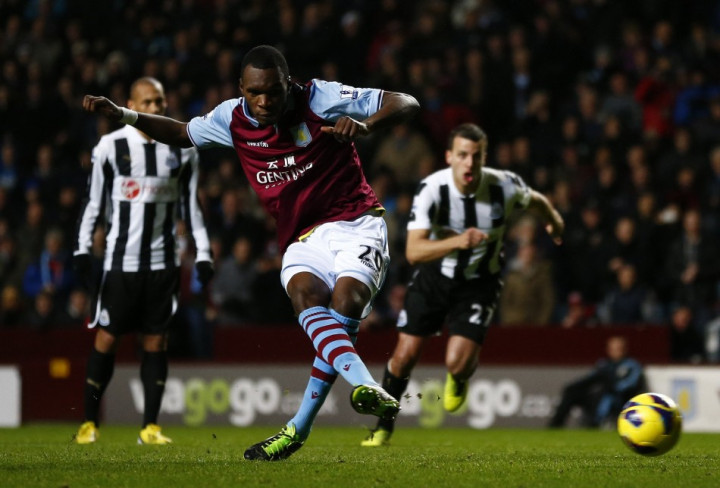 The Mirror claims Villa have rejected the offer and remain keen to re-sign Benteke to a long-term deal. The 22-year-old, however, has already stated he prefers a switch to either White Hart Lane or Arsenal. Atlético Madrid are also interested, with the report stating the Spaniards are willing to offer £25m for the player.
Atlético Madrid are understood to want Benteke as replacement for Colombian international Radamel Falcao, who has joined Ligue 1 side AS Monaco. It is believed the Spanish club's manager, Diego Simeone, and director-general Miguel Angel Gil Marin, have already approached Villa and are awaiting the English side's response.
Spurs will hope the chance to sign £7m Defoe will tempt Paul Lambert into releasing Benteke. Andres Villas-Boas is believed to want to add to his striking options ahead of the new season, after narrowly losing Champions League football to Arsenal.
He will have to contend with Benteke's compatriot though. Belgian goalkeeper Thibaut Courtois, who is on loan to Atlético from Chelsea, has called on Benteke to sign for the Vicente Calderon side.
"I believe he would be a great signing for Atlético. During these days with the national team I am going to ask him about his future. There is talk of various teams interested in him, and maybe he will stay in England. He is a very strong centre-forward, tall, but very good technically and skilful with the ball at his feet," Courtois told AS.
"Benteke is a player who has worked a lot, he left Genk and had various loan spells which have helped him grow. His 2011/2012 season with Genk was sensational and that lead to the Premier League noticing him," he added.