Aston Villa striker Christian Benteke is keen on moving to Tottenham Hotspur in spite of interest from Europa League Champions Chelsea, according to the Daily Mail. The Belgian has handed in an official transfer request and the Villans are ready to let him go should any club manage to match their valuation of £25m.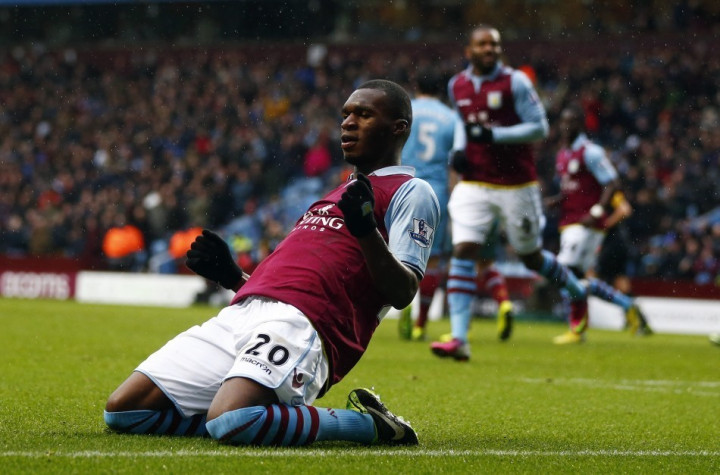 Chelsea are reportedly interested in matching Villa's valuation but the player has his eyes set on moving to Tottenham, who are also interested in the player. However, the North London club cannot match the financial resources of their London rivals and are reportedly planning a late £20m bid for the striker as the transfer window wears on.
The striker is reportedly wary of regular first team action under Jose Mourinho and wants to lead the lines this season in anticipation of making it to the squad should Belgium qualify for the 2014 World Cup next year. However, Villa are more interested in sending Benteke to Chelsea which may mean a loan deal for Romelu Lukaku at Villa Park, someone who has impressed immensely on loan at West Bromwich Albion last season.
Villa owner Randy Lerner is reportedly in no hurry to do business and does not need to sell Benteke in order to raise cash. As a result, the West Midlands club are playing hardball with the striker, who has three years left on his current contract and have omitted him from their pre-season trip to Germany.
Meanwhile, Benteke is desperate to leave the club this summer, having previously explained in an interview that Villa won't be able to keep him against his wishes. The 22-year-old caught the eye of a host of clubs last year following his transfer from Genk, scoring 19 goals in the league and helping his side steer clear of relegation.
"If Aston Villa say I must stay, I won't necessarily accept that. I do not in any way want to feel I didn't get the most out of my career. I try to get everything," Benteke told the Sun.
"Playing the World Cup in Rio is in my head. But I have no fear of falling out of the team. There is no point in me getting into a tug-of-war with Villa. If the chance comes up for me to join a club like Arsenal, I'm convinced we can reach a compromise where everyone comes out a winner," he added.