Tottenham have reportedly rekindled their interest in signing Blackpool winger Tom Ince, according to Tutto Mercato Web.
Andre Villas-Boas has been chasing the England U21 international since the beginning of this year, with Liverpool also maintaining their interest in landing him. Spurs are preparing a £8.6m bid to sign the Championship star.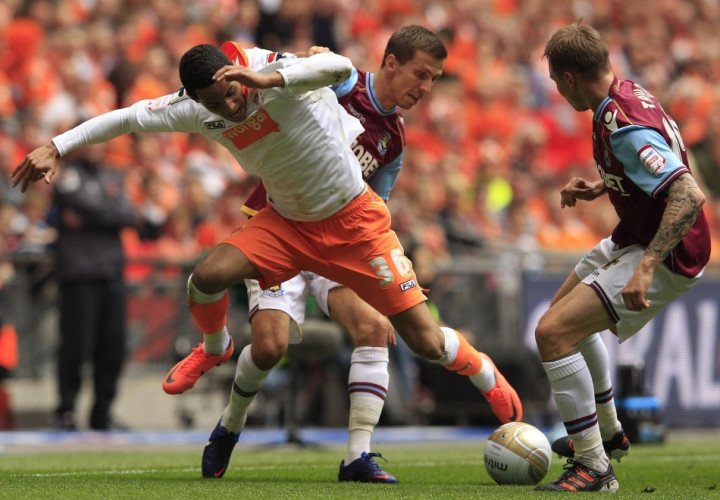 Gareth Bale's future at White Hart Lane remains uncertain as Real Madrid are keen to bring the Welsh international to the Bernabeu. The nine-time European champions are preparing a world record bid to sign him and the report claims that Ince is likely to be a replacement for the winger at White Hart Lane.
The former Chelsea manager refused to comment on Bale's future at the club. However, AVB confirmed that the north London club are keen still in the market for players.
Earlier this summer, Cardiff had agreed over a transfer fee for Ince to join the Bluebirds. However, the player decided to stay with Blackpool as the birth of his first child made him reconsider his decision of making a switch to the Premier League new boys.
Despite refusing to seal a move to join Cardiff, the 21-year-old also went on to add that he is still open to join the Premier League club, should there be an offer for his services. Meanwhile, Ince admitted that he is "over the moon" to continue with Blackpool.
"The Premier League will come so it is about going at the right time. I wish Cardiff all the best, I went down there and listened to them but for me as a player and a person it was not the right move at the moment," Sky Sports quoted Ince as saying.
"In my dad I've got a great adviser behind me and if another bid comes in we'll look at it then. I've just to got to keep working week in and week out. I had a long summer being away with England but to come back and see the players and fans here, and then score a goal for the club, makes me very happy. I'm over the moon to still be here," he added.
Meanwhile, Ince along with Southampton defender Luke Shaw has withdrawn from England's U21 fixture against Scotland.