Tottenham have been dealt what could be a lethal blow in their pursuit of Steaua Bucharest defender Vlad Chiriches. The Romanian club's owner, Gigi Becali, has criticised the north London outfit for attempting to sign the player too soon.
Spurs were understood to be close to a £6.9m transfer for the 23-year-old, particularly after comments from the player's representative Ioan Becali and Romanian national team coach Victor Piturca.
The agent, Ioan Becali, had said: "[Tottenham] sent an offer of £6.9m for Chiriches, which is what Steaua wanted. I talked to the people at Roma, we were told that they cannot offer more than £5.5m or £6m, so we were allowed to talk to the people at Tottenham."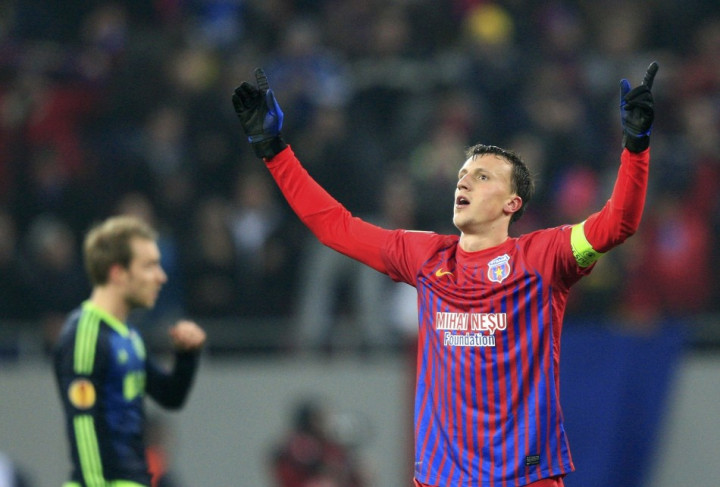 However, with Steaua set to face Dinamo Tbilisi in the second leg of their Champions League qualifier next week, owner Gigi Becali has ruled out the sale, according to manager Mihai Stoica.
Becali, a former member of the Romanian Parliament, is serving a three-year prison term for abuse of power and his role in a land exchange case.
It is understood Tottenham were unwilling to wait till next week to complete the deal. Becali reacted furiously to this demand and called the Steaua chiefs from his cell to break off all negotiations with the Londoners.
"Who are Tottenham?! Do not do any transfer, my name is Gigi Becali, I'm not a slave to anybody! We have an important game in the Champions League, why can't they wait?" Stoica quoted Becali as saying.
"Until winter he will not leave under any circumstances. This could be a blow to Chiriches, but he should understand. He owes a lot to Steaua. Things are good, we are in qualifying for the Champions League. We are in good shape. [Tottenham] made a big mistake. They sparked anger in Gigi," the Steaua manager added.
Speculation linking Chiriches to Spurs intensified over the last couple of days, particularly after Steven Caulker left White Hart Lane for newly promoted Cardiff City. Andre Villas-Boas is in the market for a centre-back, with Jan Vertonghen set to miss the start of the season with an ankle injury.
Younes Kaboul has not played a lot of competitive football recently, after spending the whole of last season on the treatment table. This leaves AVB with just one fully-fit centre-back, Michael Dawson, ahead of the season opener against Crystal Palace in two weeks.