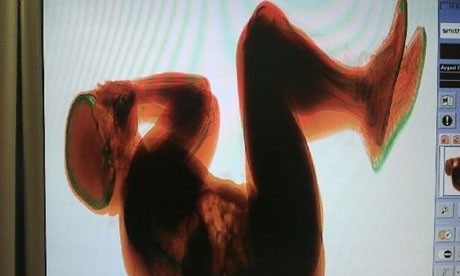 A drunk Norwegian tourist unwittingly exposed Italian security system in Rome Fiumicino airport, as he manage to travel around a terminal for about 15 minutes asleep on the baggage belt, before being caught by an x-ray scanner.
The episode caused a partial blockage of airport's operations and a large nuisance for Fiumicino's security procedures.
The 36-year-old man, who was to fly to Oslo, arrived at the airport around 6pm, one of the airport's busiest hours, carrying just a backpack and a can of beer.
As no one was on duty at the airline check-in desk, the man walked past the counter and took a nap on the baggage belt.
When the belt was eventually activated, he continued his slumber and started a journey across the Italian airport, laying in the fetal position with his bag on his shoulders.
His trip finished after 160 feet, when an X-ray image of him appeared on the computer screens of Rome's airport security.
The belt had carried him all the way to the last baggage scan check before the loading area, where police reportedly had trouble waking him up.
According to a senior police officer at the scene, the incident didn't expose any airport security weakness.
"He wouldn't have ever arrived at the core of the airport. There is a security system which opens just if manually activated by the loading staff. Before that there is the X-ray scanner which identified the man," he said to Italian newspaper La Repubblica.
It is not the first time that such an incident happens at Fiumicino.
The manual security system mentioned by the police officer was installed ten years ago, after a homeless person went on a similar sleeping trip.
"There's usually an episode like this once a year and we are alert," said the police official.
"It's impossible to avoid a situation like this if there's no employee at the check-in desk," said another police officer.