President-elect Donald Trump has been criticised for his response to the Berlin and Ankara attacks by a senator who suggested he had oversimplified the issue.
Senator Angus King told CNN's New Day that Trump had been too quick to classify Monday's (19 December) events in Germany and Turkey as Islamist terror attacks.
"Simple answers to complicated questions are usually wrong," King said on the show.
"In this case, it appears that, number one, we don't really know the facts, so it's premature to come to a conclusion; but number two, it appears that the attack in Turkey on the Russian ambassador wasn't a religious attack but was a political one: revenge for what's going on in Aleppo."
He added: "Just to say it's all Islamic terrorism I think is, A, not the correct answer, and B, will only inflame tensions and could conceivably make them worse."
King also suggested Trump's classification of the attack on a Christmas market in Berlin and the assassination of the Russian ambassador to Turkey in Ankara could alienate the Muslim community in the US, The Hill reported.
"Do we really want to have a war of half the world against the other half the world?" he asked.
"Most of the tips and the help that we get in dealing with these problems and thwarting these problems here in the US come from people within the Muslim community.
"Do we really want to radicalise all of those people? I just don't think it's in our best interest."
Trump had said in a statement following the attack: "Our hearts and prayers are with the loved ones of the victim's of today's horrifying terror attack in Berlin.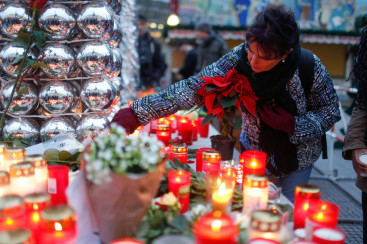 "Innocent civilians were murdered in the streets as they prepared to celebrate the Christmas holiday.
"Isis and other Islamist terrorists continually slaughter Christians in their communities and places of worship as part of their global jihad.
"These terrorists and their regional and worldwide networks must be eradicated from the face of the earth, a mission we will carry out with all freedom-loving partners."
The president-elect also shared a response to Berlin and several other attacks, including Ankara and the gun attack on a Zurich mosque, on social media.
He tweeted: "Today there were terror attacks in Turkey, Switzerland and Germany - and it is only getting worse. The civilized world must change thinking!"
Comparisons have been drawn between Trump's reaction and the response from Barack Obama, who opted for a more cautious statement in response to the attack.
While Trump was quick to name the attacks as being perpetuated by Islamic terrorists, Obama's team said the attack "appeared" to be a terrorist attack, and focused on national rather than religious factors.