Donald Trump is cheering his 2016 election win following the Electoral College vote that handed him the top job in the United States on Monday (19 December).
"We did it! Thank you to all of my great supporters, we just officially won the election," Trump wrote on Twitter late 19 December.
As the Electoral College votes were counted, Trump secured 304 to Clinton's 227 votes. Presidential contenders need 270 votes in the Electoral College to win the White House. The official announcement of Trump's win, however, won't come until 6 January 2017.
Each state is given a number of Electoral College votes based on its population and members of the college met Monday in state capitol buildings across the US to seal the election. These votes are mostly based on whichever candidate won the popular vote in their state.
Trump got two fewer elector votes than he originally won as electors became "faithless" and refused to vote for him. But there were seven electors who refused to vote for Hillary Clinton.
David Mulinix, an elector in Hawaii, voted for Clinton's Democratic primary rival Bernie Sanders, saying that Clinton wasn't "qualified". In Washington state three electors voted for former Secretary of State Colin Powell, and another for Faith Spotted Eagle, for her work fighting the Dakota Access Pipeline.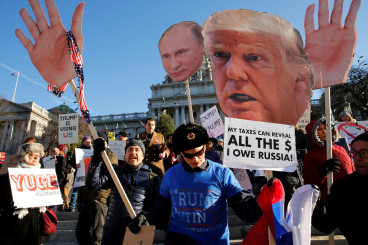 Trump's win came after protests and media coverage for the push by many Democrats, and some Republicans, for electors to flip their vote from the President-elect. They argued Trump is "unqualified" for the presidency for various reasons, including his temperament and lack of experience in government.
Trump said he won "despite all of the distorted and inaccurate media". He retweeted a message from his Director of Social Media, Dan Scavino Jr, with the hashtag #TrumpTrain. In 2012 during President Barack Obama's reelection, Trump called the Electoral College "a disaster for a democracy".
Ohio's Republican Governor, John Kasich, who refused to endorse Trump during the 2016 campaign, made overtures for unity in the face of Trump's election.
"We want unity, we want love," Kasich said during voting at the Ohio Statehouse, which took place as protesters marched outside.