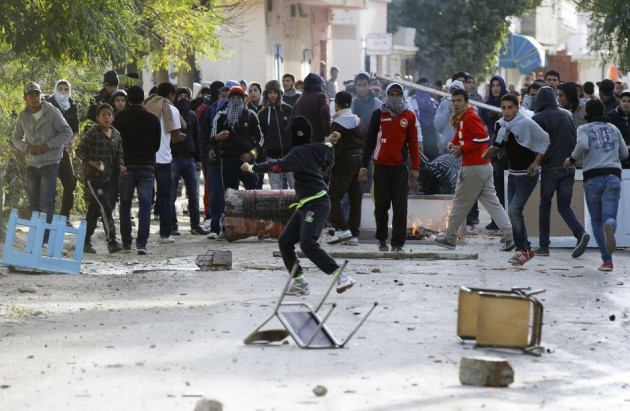 Clashes in the northwestern Tunisian city of Siliana have left 50 policemen injured after a general strike turned violent.
Young protesters threw stones at police and attacked their police stations after main demonstrations were held to mark the first anniversary of riots in which more than 300 people were injured. Police responded with teargas.
"A group of teenagers aged between 14 and 18 attacked the police after we successfully ended our march," Ahmed Chafai, of Tunisia's largest labour union, told Tunisia Live.
The interior ministry confirmed that 50 police officers "were injured to varying degrees". Some sustained fractured bones, said a ministry spokesman.
General strikes took place also in Gafsa, a mining town in the south of Tunisia, and the coastal city of Gabes. In Gafsa, dozens of protesters tried to storm government offices and looted the regional HQ of the ruling Islamist Ennahda party.
During the 2012 Siliana protests, people rallied to demands for a new provincial governor but were dispersed by police wielding shotguns. At least 332 people were wounded, many partially blinded by birdshot.
Labour demonstrators were calling for greater investment in their regions. The Islamist-led government, controlled by the moderate Ennahda, which has been ruling the country since the uprising in 2011, has been unable to resolve income inequalities between the wealthier coastal cities and the interior.
Unemployment rates stand at 15.7% but that rises 29% in impoverished Siliana and Gafsa.
"We continue to be forgotten and marginalised because of the policies of the government," said Mohammed Miraoui, head of the local labour union branch in Gafsa. "From one day to another, the economic and social situation is deteriorating with not a single project from the 2012 budget even implemented."