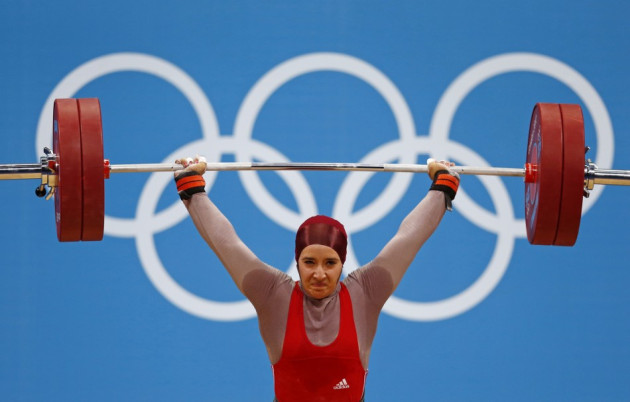 The Olympic spirit has been enhanced with a new - and unusual - record being set with the first weightlifter in the Games' history being allowed to compete with most of her body covered in accordance with her religious belief.
Tunisian athlete Ghada Hassine, 19, a Muslim, lifted a total of 220kg wearing a newly approved "unitard" costume under the traditional weightlifting outfit and with a hijab covering her hair.
Hassine finished 10th in the women's 69kg category after clearing 102kg in the snatch and 120 in the clean and jerk.
The competition was won by North Korean Jong Sim-rim followed by Rumanian Roxana Cocos and Belarus's Maryna Shkermankova.
In 2011, the International Weightlifting Federation modified the rules requiring weightlifters to compete with their arms and lower legs uncovered to allow Muslim athletes to participate in the games.
Saudi female judoka cleared to compete
Wojdan Ali Seraj Abdulrahim Shaherkhani, a female Saudi judo fighter, has also been allowed to compete with her head covered.
The decision came after several days of talks between the International Olympic Committee (IOC), the International Judo Federation and the Saudi Olympic Committee, as the latter threatened to pull Shahrkhani out if she was not allowed to wear a hijab.
Headscarves were banned under judo rules as contrary to the sport's principles and for safety reasons.
Shaherkhani is one of the two first Saudi female athletes ever to participate in the Olympic Games.
The other is Sarah Attar, a 17-year-old, California-raised 800-metre runner, who studied at Malibu's Pepperdine University.