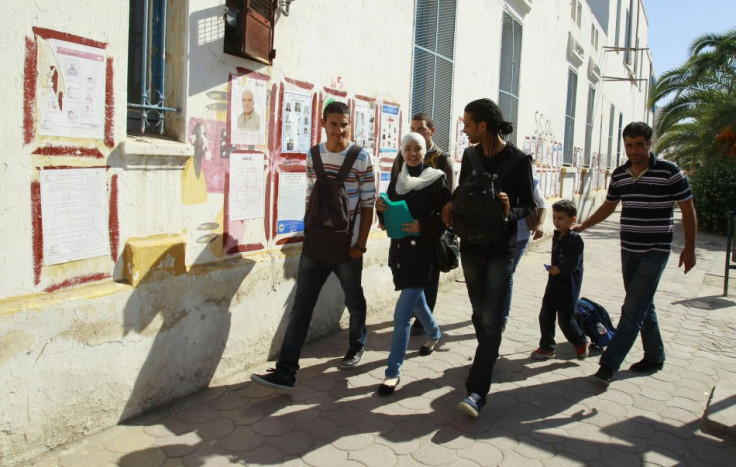 Tunisia's forthcoming elections are set to take place over the week-end but fears of violence and vote rigging are mounting as the Arab Spring's first polls are set to take place in a country still divided between islamist and secular tendencies.
Sunday's votes will see Tunisians choose representatives for the new Constituent Assembly which will draw up a new constitution and appoint a new transitional government until further elections return a permanent government.
The Islamist Ennahda party is widely tipped to win the biggest bloc of votes but has warned that any fraud could spark a new uprising, nine months after massive anti-government protests led to the ousting of the former president Zine el Abidine Ben Ali.
"We think we're the party of the majority," Ennahda leader Rached Ghannouchi told a press conference in Tunis, before insisting his party would accept the results of the votes.
"We will congratulate the winner and will collaborate with them just as other parties should do the same if we end up winning; Tunisia is in need of everyone. The keyword is reconciliation, our foremost concern is reconciliation in composing the upcoming government without regard to ideological differences."
Ghannouchi however warned he might be less tolerant in the case of vote rigging.
"There is a risk of the election results being manipulated," he told a press conference in Tunis.
"If there is manipulation, we will rejoin the forces and the guardians of the revolution which ousted Ben Ali and the first (interim) government. We are ready to oust up to 10 governments if needed," he added.
Abdelhamid Jelassi, the director of Ennahda's political campaign, also stressed reconciliation and compromise.
"The elections are the result of the effort of generations of Tunisians, going back to the 1950's. We believe the elections to be a competition but not a conflict, and they are not a time to engage in political quarrels, " he said.
When questioned about the party's stance on minority religious rights, Ghannouchi responded to its critics by saying, "Until now, Tunisian society has not been a society of minorities; it's a Muslim society whose religious minorities are respected."
"Religious freedom is guaranteed by the Constitution and the values of Arabic Islamic culture."
Despite reassurances from the Ennahda party leaders, a leftist grouping, the Democratic Modernist Pole (PDM), complained it had been harassed by Islamists in recent weeks and tensions between the different parties are also emerging.
"We condemn these acts of violence which come against a backdrop of systematic slander on the Internet and coincides with our coalition's surge over the past few weeks," PDM chairman Riadh Ben Fadhel told reporters.
Two other parties dismissed the possibility of a rigged election and warned against political manipulation.
"We will be as vigilant as they (Ennahda) are over any manipulation of the results but I believe that at this stage what is needed is a sign of appeasement," said Mustapha Ben Jaafar, chairman of the centre-left Ettakatol.
Meanwhile talking about his political rivals, Ghannouchi, accused them of ganging up against Ennahda.
"It is their aim to destroy us," he said. "If the small movements enter into a coalition against Ennahda if we win the elections I can say that it will be a blow for democracy."
There have been sporadic anti-secular outbursts by ultra-conservative Salafists throughout the electoral campaign, including a petrol bomb attack on the home of a television director's house after the broadcast of a film deemed offensive to Muslims.
Despite popular discontent over social injustice, poverty and corruption still high, analysts have warned vote interest remains low, but only time will now tell if Tunisia is ready to peacefully move away from its transition period and start building the foundation for a more democratic future.